Due to lack of demand for passenger transportation, American Airlines plans to start flying scheduled cargo-only flights.
The first cargo-only flight is to depart from Dallas/Fort Worth International airport on 20 March and will land at Frankfurt International airport the next morning, says the company on 19 March. The Boeing 777-300 will operate two round trips between the airports over the course of four days.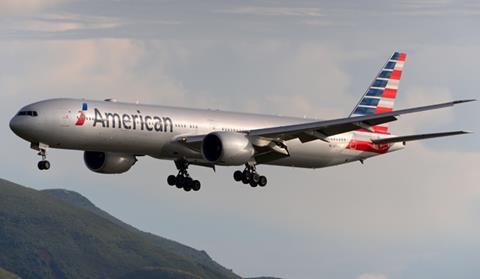 The trips represent the first scheduled cargo-only fights since 1984 when American retired the last of its Boeing 747 freighters, says the Fort Worth-based airline.
"Challenging times call for creative solutions, and a team of people across the airline has been working nonstop to arrange cargo-only flight options for our customers," says Rick Elieson, president of cargo and vice-president of international operations.
American also points out that airlines are "deemed a critical infrastructure industry by the Centers for Disease Control and Prevention."
On Thursday, the US Senate drafted a bill that would provide passenger and cargo carriers $58 billion in collateralised loans and loan guarantees, including $8 billion reserved for cargo carriers. Industry lobby groups had earlier requested a mix of grants, loans and tax breaks to alleviate the financial pain inflicted by the traffic fallout from the coronavirus.
American has cut more than 75% of its international capacity in recent days.
The 777-300 has 14 cargo positions for large pallets and can carry more than 45,400kg (100,000lb). The four scheduled flights this weekend are expected to be booked to capacity, says American.
Domestically, American plans to continue carrying cargo on all of its planes.