ANA Group will use sustainable aviation fuel (SAF) on flights departing from Haneda and Narita, starting July.
The fuel is procured from Finnish oil company Neste, under a memorandum of understanding the parties signed in 2020 for a medium- to long-term strategic alliance, the group says in a 17 June statement about the 'ANA Future Promise' initiative that consolidates its wide-ranging environmental, social responsibility and governance (ESG) initiatives.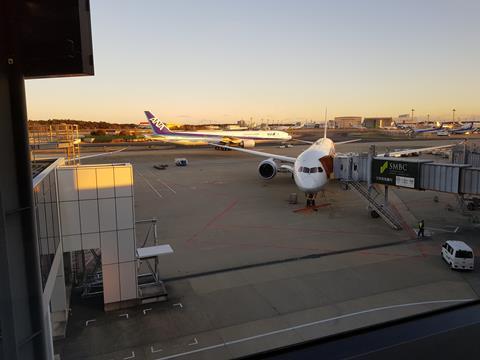 ANA Group says: "The use of SAF is central to CO2 emission reduction, and ANA is committed to investing in the development of a viable SAF supply chain to facilitate the expanded use of SAF."
ANA's previous efforts to support SAF development include a 2019 agreement with LanzaTech for future SAF purchases. The group has since 2011 supported similar initiatives by other companies to produce SAF, it says, adding that it will utilise emissions trading systems where appropriate.
ANA has also taken other measures to reduce CO2 emissions from aircraft operations.
Besides actively using fuel-efficient equipment, such as Boeing 787 aircraft, ANA seeks to conduct operations in an environmentally friendly manner at every stage.
This approach is applied through the selection of fuel-efficient flight paths as well as ascent and descent methods, and other measures include reducing the weight of the airframe and equipment onboard, turning off one engine when the aircraft is on the ground, and regularly cleaning aircraft engines to improve combustion efficiency.
ANA has also issued sustainability-linked bonds in the financial years ended 31 March 2019 and 31 March 2020 as well as the current one. In May, the group disclosed plans to issue five-year, Y10 billion ($91 million) sustainability-linked bonds in June, to strengthen its commitment to ESG goals.