ANA Holdings, the parent company of Japanese carrier All Nippon Airways, has revised upwards its full-year profit forecast, amid cost reduction efforts and despite sluggish cargo performance.
It now expects to report an operating profit of Y120 billion ($895 million) for the year to 31 March, about 26% higher than the Y95 billion previously forecast.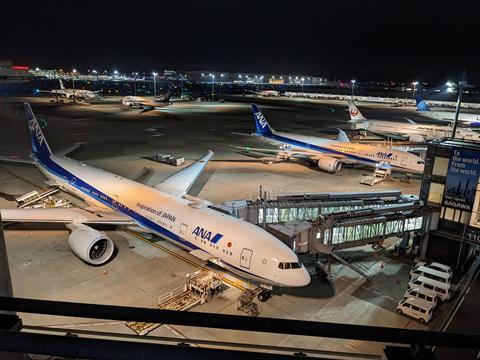 The company, however, did not adjust its revenue forecast for the year, noting that while international passenger revenues "performed strongly" after Japan eased its pandemic border control measures, cargo revenues "remained stagnant" amid a sluggish freight market.
ANA Holdings, which comprise mainline operator ANA, low-cost unit Peach, as well as soon-to-launch medium-haul unit AirJapan, adds that it has been able to slash its full-year costs, helped by lower fuel prices and a strengthening of the Japanese Yen.
The revised profit forecast compares to the Y173 billion operating loss it reported in the previous financial year, as Japan's borders remained shut to international travel.
ANA Holdings in February also said it was working to "maximise profitability" of its airline business, and unveiled a refreshed business strategy that target "further growth" in the near-term.
Under the mid-term plan, mainline operator ANA will focus on resuming and increasing international flights to and from Tokyo's Narita and Haneda airports. Domestic operations will now only "focus on core routes".
Peach, meanwhile, will focus on domestic flying, as well as short- and medium-haul routes in Asia where leisure and inbound demand is highest.
AirJapan, whose launch is expected by end-March, is expected to "capture inbound demand…by launching flights to major cities in Southeast Asia, where the market opportunity is large and growing", the group said in February.