All Nippon Airways parent ANA Holdings swung to an operating profit for its 2022 financial year, benefiting from the lifting of travel restrictions related to the coronavirus pandemic.
For the year ended 31 March, ANA swung to an operating profit of Y120 billion ($897 million), compared with a loss of Y185 million a year earlier, according to an ANA Holdings' results filing. This marks ANA's first operating profit since the year ended 31 March 2020.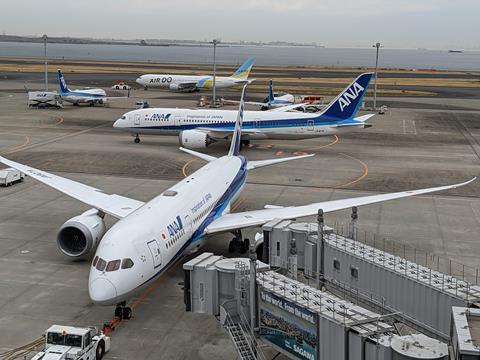 Revenues nearly doubled to Y1.7 trillion, as the carrier swung to a net profit of Y89.4 billion compared with a net loss of Y144 billion a year earlier.
"The airline industry is rapidly improving and passenger demand increased significantly due to the gradual easing of entry restrictions in various countries throughout the fiscal year," says ANA.
"In terms of expenses, although operation-related costs increased with the recovery in demand and the scale of operations expanded, ANA Holdings worked to cut costs through the execution of structural business reforms, while being supported by various tax exemptions and government subsidies."
International passenger revenues jumped six-fold to Y433 billion, with the number of international passengers jumping fivefold to 4.2 million. International ASKs rose 74.8% year on year, while RPKs jumped nearly fivefold. ANA's international passenger load factor rose 46.6% to 73.6%.
Domestic traffic also improved, with domestic revenues rising 89% to Y530 billion, with passenger carriage up 92% to 35 million. Domestic ASKs rose 46% and RPKs rose 97%, as passenger load factors improved 16.8 percentage points to 64.5%.
Cargo revenue softened in the 2022 financial year, with international cargo revenue falling 6.3% to Y308 billion and domestic cargo revenue falling 3.3% to Y24.1 billion.
Low-cost unit Peach enjoyed a strong rebound, with revenues more than doubling to Y90.2 billion. Peach carried 7.8 million passengers in the 12 months to 31 March, up 82% from a year earlier. ASKs rose 55.6% and RPKs 85.5%. Peach's passenger load factor rose 11.9 percentage points to 73.5%.
"Together with the decline in demand for auto-related parts and other factors, ANA reduced the number of cargo-dedicated flights on passenger aircraft, in order to strengthen operations for passenger demand," says ANA.
"As a result, the amount of freight carried decreased from the previous fiscal year, while ANA's efforts to actively capture cargo at a higher unit-price such as large-sized special commercial products helped maintain a high unit price level."
As of 31 March, cash and cash equivalents stood at Y726 billion, up from Y621 billion a year earlier.
As for its outlook, ANA is optimistic about the Japanese economy improving as residual restrictions related to the pandemic are relaxed and economic activity picks up, but it is concerned about economic instability caused by high energy prices and monetary tightening in Europe and North America.
Says ANA: "In the airline business, demand for domestic flight is expected to recover mainly in the leisure sector and other flights, while for international flights, a continued recovery is expected for demand for visits to Japan and business demand. Still, there are geopolitical risks by the Ukraine issues and these trends needs to be monitored closely."