ANA Holdings rebounded to profitability in its first-quarter earnings, helped by a jump in revenues led by strong passenger travel demand across international, domestic and low-cost networks.
For the three months to 30 June, the parent company of All Nippon Airways (ANA) was Y43.7 billion ($313 million) in the black at the operating level, reversing the Y1.3 billion loss in the year-ago period.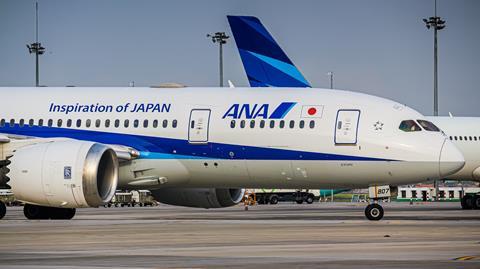 On a segment basis, the aviation business – comprising mainline operator ANA, low-cost unit Peach and cargo carrier ANA Cargo – also swung to a Y42.3 billion operating profit. This compares to a Y1.9 billion loss last year.
Group revenue grew nearly 32% year on year to Y461 billion, with the aviation unit reporting a 33% jump. ANA Holdings notes that its other business units, including travel services and airline-related ancillary business - also saw respectable increases in earnings during the quarter.
"Despite concerns about geopolitical risks such as the situation in Ukraine, the airline business continues to see a recovery in passenger demand due to the further relaxation of travel restrictions and disease control measures in countries around the world," the group states.
Within the airline business, it was ANA's international passenger service that saw the largest jump in revenue - more than doubling year on year - after Japan eased its pandemic travel restrictions late-2022.
ANA carried more than 1.6 million international passengers during the quarter, more than twice the number reported a year ago, with capacity and traffic similarly doubling year on year.
Apart from an influx of travellers coming to Japan with restrictions eased, ANA says the uptick can also be attributed to "proactive initiatives to capture business demand for departures from Japan and demand for transit connections between North America and China".
On the domestic front, ANA reported a 40% increase in revenue, while passenger numbers were up 47% year on year to 9.7 million. Still, the mainline operator warns that domestic business travel demand remains slower to recover.
"In domestic passenger service, business demand has increased compared to the same period last year but has not returned to pre-pandemic levels, while leisure demand has recovered to pre-pandemic levels," it states.
Low-cost carrier Peach, meanwhile, saw its revenue increase 78% year on year Y27.7 billion, on the back of a 27% jump in passenger numbers.
ANA Holdings attributes the better performance to "ongoing strong leisure demand for domestic travel…and proactive efforts to capture inbound demand to Japan on international routes".
However, any increase in the passenger travel revenue was offset by a decline in cargo takings. ANA Cargo saw its international cargo revenues plunge nearly 60% year on year, amid a 20% drop in cargo volume. Domestic cargo revenues were down 10.4%, even as capacity rose 38%.
"ANA has worked to ensure profitability by reviewing trends in demand for each route and each day of the week and then adjusting the supply of cargo-only aircraft as required," the group states.