ANA Holdings is aiming to achieve net-zero carbon emissions from aircraft operations by 2050.
By 2030, the company targets for CO2 emissions from aircraft operations to be less than or equal to that of the financial year ended 31 March 2020, it says.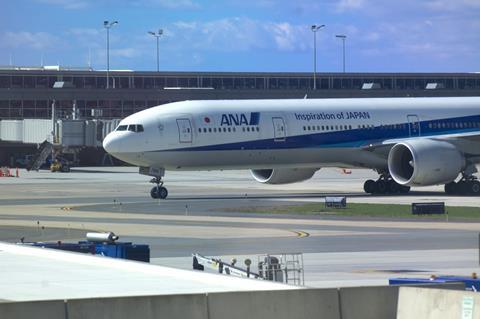 These are updates to ANA's previous environmental, social and governance (ESG) goals, set in July, to halve CO2 emissions from 2005 levels by 2050.
Key factors that will drive the decrease in ANA's emissions for aircraft operations are greater use of sustainable aviation fuel (SAF), development of more fuel-efficient aircraft and engines, more efficient aircraft operations and maintenance procedures, as well as the utilisation of carbon credit trading to help offset its carbon footprint.
ANA's previous efforts include signing in 2019 an offtake agreement with carbon recycling technology specialist LanzaTech to purchase SAF. That partnership was expanded in 2020 and gives ANA the opportunity to participate in fuel offtake across LanzaJet's global portfolio and production.
ANA also entered into an SAF supply agreement with supplier Neste in 2020, and together conducted the first SAF-fuelled flight out of Japan.
ANA Holdings' president and chief executive Shinya Katanozaka states: "Sustainability and innovation are both central components of our vision at ANA Holdings, and we are excited about the opportunity to make meaningful change as we work to advance our ambitious ESG agenda."
He adds: "Achieving net-zero emissions will require us to pursue a number of initiatives to reduce our carbon footprint across the organisation, but our entire team is committed to doing all we can to make ANA Holdings an example of sustainability in our practices."