For the first time All Nippon Airways will operate Boeing 787-10s on its domestic network, with the type progressively replacing 777s that will be phased out.
In a network update issued 22 August, the Star Alliance carrier says the -10s will first operate flights between Tokyo's Haneda airport and Fukuoka, as well as Sapporo, from February 2024.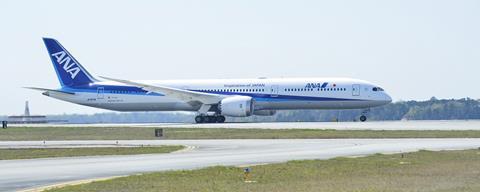 The 787-10s will be configured to seat 429 passengers in two classes: 28 in 'Premium' class, and 401 in economy class.
It is the second highest seat count in an ANA domestic jet, after the 777-300, which has 514 seats in two classes. ANA's domestic 787-8s and -9s seat between 335 and 395 passengers.
According to Cirium fleets data, the airline has three Rolls-Royce Trent 1000-powered 787-10s in service now, operating international flights. It has another 11 examples on order.
ANA says it will take delivery of the remaining 11 aircraft – likely to be domestic-configured examples – by fiscal 2026, which starts 1 April 2026.
The airline is phasing out its 777s in favour of the 787s, which it says provide better fuel-efficiency and noise reduction. In 2020 amid the Covid-19 pandemic, the carrier announced large-scale aircraft retirements, including its 777s. As at end-March, the large aircraft fleet stood at 33 aircraft, half of pre-pandemic numbers.
In fleet plans disclosed in February this year, ANA said the 787 fleet will have a significant presence in the future fleet. By 2030, parent company ANA Holdings expects to have at least 100 Boeing 787s by 2030, or about 35% of the group's total fleet.
ANA has 40 787-9s and 36 -8s in service. It also holds orders for eight -9s.
JAL TO UNVEIL A350-1000 CABIN PRODUCTS
Meanwhile, compatriot Japan Airlines has confirmed that "preparations are underway" for the launch of Airbus A350-1000 operations.
The Oneworld carrier has designated the aircraft as its new flagship, with its maiden flight set to be from Tokyo Haneda to New York in late-November.
The airline says it will disclose "interior and inflight services" for the A350-1000 fleet – as well as a launch date – on 2 October.
"Experience a sense of privacy and relaxation in our aircraft cabin, while we deliver products and services tailored to each individual customer's needs," it states.
JAL has 13 -1000s on order, according to fleets data. The airline operates the smaller -900 on domestic flights.