All Nippon Airways will retire large aircraft operating domestic flights "ahead of schedule" — and cut their utilisation by half — as it discloses that domestic operations will "make up the core" of its earnings in the coming financial year, which begins on 1 April.
Outlining interim flight schedules for the new year, the Star Alliance carrier says it will "temporarily utilise aircraft for international routes on domestic flights", while its small to medium jets will supplement operations.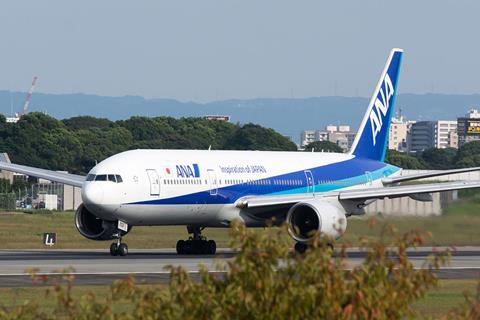 ANA adds: "Compared to [financial year 2020], the usage rate of large aircraft will be reduced by 50%, while the usage rate of small aircraft will increase by 30%."
While it did not elaborate which aircraft it was referring to, ANA has a sizeable widebody domestic fleet, including Boeing 777-300s which are configured to seat more than 500 passengers. Other densely-configured aircraft include 777-200s which can seat more than 400 passengers, as well as its 787-9, which has 395 seats in a domestic configuration.
Some of ANA's 777 are already on the way out. In October 2020 the carrier said it would retire 22 older 777s following a broader business reorganisation amid the coronavirus pandemic. The move will impact both domestic and international networks, says ANA.
For the coming financial year, ANA will double down on adjusting its domestic network, in the hopes of maximising revenue.
"In planning operations, ANA will raise profitability by monitoring demand trends and the status of the market more frequently. We will also suspend or reduce flights in response to demand while increasing the frequency for certain routes when there is an increase in demand at peak seasons," the carrier says of its domestic network. To this end, the carrier has ramped up capacity on flights to Hokkaido and Okinawa in the summer months, in anticipation of increased demand.
On its international operations, ANA says it is still affected by border closures and travel restrictions — aimed at curbing the pandemic's spread — and will adjust operations accordingly.
A series of international flight launches from Tokyo Haneda — such as Stockholm, San Jose and Sydney — have been postponed indefinitely.
The airline adds that it will be utilising more 787s on international flights, after the move to retire some 777s.
ANA's latest disclosure follows compatriot Japan Airlines' announcement of tweaks to its domestic schedules and fleet plans.
JAL, which in October said it was speeding up the retirement of its older 777s, will "continue to add more Airbus A350-900 aircraft into its domestic fleet lineup" in the coming financial year.
Its regional unit Hokkaido Air System will complete its fleet replacement efforts, which involve taking delivery of ATR 42-600s to replace older Saab 340 turboprops.