Arab airline leaders expect it to take between three to five years for passenger levels to return to pre-crisis levels as carriers in the region have been particularly hard hit by the pandemic's impact on international services.
The Arab Air Carriers' Organization (AACO) set out the projection in adopting a resolution at its AGM in Doha on 11 November calling on governments to follow international guidelines on air travel and biosafety to help support the recovery of air travel in in the region.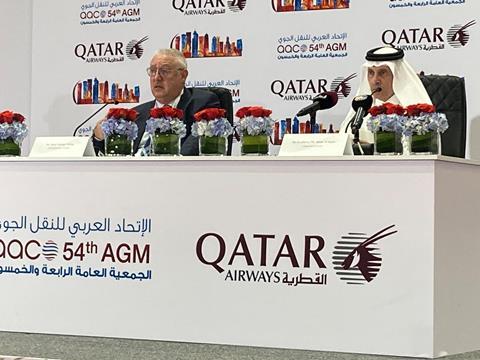 "This unprecedented crisis is still with us today," warned AACO secretary general Abdul Wahab Teffaha, addressing delegates at the AGM.
"The global economy in 2020 declined by 3.2%, while the Arab economy suffered a double hit from the collapse of oil prices, due to the global economic regression, and due to the very high contribution of travel and tourism in the Arab economy.
He notes that while the contribution of travel and tourism to global GDP halved from 10.4% to 5.5%, it fell from contributing 14.4% to Arab world GDP to 5.4% instead.
"In terms of passenger traffic measured in revenue passenger kilometres (RPKs), we are globally still 66.7% lower in the first half of 2021 compared to 2019 and less by 80% at the level of the Arab world. This difference between the two averages is due to the recovery of the US and Chinese domestic markets, while the overwhelming percentage of Arab airlines' traffic is international."
He adds: "With such a deep and lingering impact of the crisis, we expect that returning to 2019 levels will take three to five years, a period that depends heavily on how the world will adapt to a new normal of having an endemic Covid-19."
One resolution AACO passed focuses on ensuring the required travel and health documentation is mutually accepted by countries in the region, key to the pace of traffic recovering to pre-crisis levels.
"Many governments just ignored the time and resources the world has invested in creating international bodies that are meant to deal with international crises such as pandemics and resorted to national measures," says Teffaha.
"The resolution was very specific on what type of measures we expect governments to adopt in order to reduce the amount of hassle that passengers are being subjected to," Teffaha says, with regard to differing requirements around PCR and vaccine certification acceptance. "So the resolution is extremely descriptive on what is required by the governments."
The issue was similarly raised by IATA director general Willie Walsh earlier during the AGM. "While the Middle East is progressively re-opening, there is still some work for governments in the region to do," he says.
"We need to have truly hassle-free travel for those who are vaccinated," highlighting different rules - and the cost - around the requirement for PCR tests.
Similarly he calls for alignment on vaccine acceptance. "Right now, it is a mish-mash. States, of course, can choose which vaccines to make available to their populations. But all governments should respect and recognise all the vaccines on the WHO emergency use list for travelers who, in most cases, will not have had a choice in what is available," Walsh says.
He also calls for efficient alternatives to enable travel for those without access to vaccines.