Airlines are blasting a new tax proposed by the Argentine government that will once again increase airfares.
The so-called "airline security tax" of ARS 250 ($1.60) was approved by the lower house of the country's legislature on 25 October. It is slated to help finance Argentina's Airport Security Police (PSA). It's the eighth such additional fee the country adds to every airline ticket sold.
"This recurring policy of taxing the industry is becoming unsustainable," said Peter Cerda, regional vice-president for the Americas at airline industry organization IATA on 28 October.
He calls the new tax "a crippling blow" to the industry and travellers.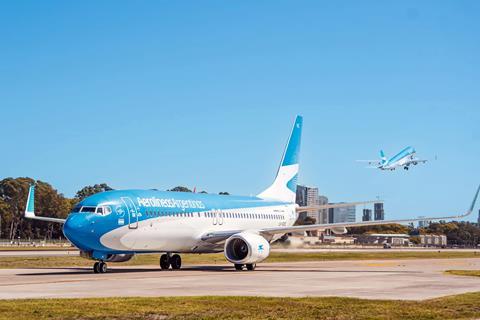 "As an industry we have always demonstrated our commitment to collaborate with the government to build a post-pandemic sustainable aviation sector in Argentina," he adds. "We had forecast that we could reach 2019 traffic levels by 2024, but rather than facilitating this process, the government is just placing more rocks onto an already rocky road."
Regional industry association ALTA echoes that sentiment, and says the new levy will dissuade passengers and hurt tourism.
"Airfare is the great gateway to countries. Thinking systemically, it all starts with the search for tickets," says ALTA chief executive Jose Ricardo Botelho. "If the cost is higher than other destinations, the passenger might decide not to travel or choose another place."
"Therefore, despite the efforts that operators in the region have been making for years to make their operating costs more efficient to pass those efficiencies on to users, we see a complex reality, which is the multiple taxes, fees, and charges that increase the final fare that passengers see and must assume," he adds.
ALTA, which held its annual leaders' meeting in Buenos Aires earlier this month, says that taxes on air travel in Argentina are the highest in the region.
Including the new PSA tax, a ticket issued in Argentina in pesos now has a total of eight taxes and fees: an airport use tax, migration and customs tax, security tax, income tax, country tax, income tax withholding and the tax of the national tourism board.
"Depending on the base fare, up to 54% of the total value of an air ticket paid by passengers in Argentina in pesos is composed of taxes," IATA says.
"Argentina is already plagued by unjustifiable taxes and fees that hurt demand for air travel and ultimately inhibit the country's development," Cerda adds.
As the aviation industry climbs out of its Covid-19-driven slump, airlines in South America have a steeper hill to climb than those in other regions.
Carriers across the continent did not receive any industry-specific aid to help them through the pandemic, and they are expected to once again lose another $3 billion in 2022. In addition, the region lags far behind Europe and North America in terms of annual per-capita trips. In Latin America the annual per-capita trip rate is currently 0.6 - less than one trip per citizen per year - in Europe that figure is 2.6 and in the United States it is 3.3.
Two weeks ago, at the ALTA Airline Leaders' Forum, Argentine flag carrier Aerolineas Argentinas and low-cost operator Flybondi both announced growth plans. Aerolineas expects to take 10 more Boeing 737 Max jets over the next three years, while Flybondi aims to add five more 737s in 2023.
Government leaders who addressed the Forum touted the country's high potential for growth in both the airline and the tourism industries. Listing a series of investment commitments across the country's airports, transport minister Diego Giuliano told delegates: "We have placed a bet on infrastructure and building a regional durable, sustainable airline system. We want all airline companies to grow and develop, our national airline, low-cost carriers and international carriers."
But in addition to global economic uncertainty which include high jet fuel prices and a looming recession, Argentina is also experiencing high inflation – which reached 80% in September - and currency issues, making travel increasingly unaffordable for the vast majority of the population. Even a small additional tax to airfares can dissuade people with modest incomes from choosing to travel by air.
"Argentina has been losing competitiveness compared to its peers in the region, Cerda says. "The decision to add new charges will result in higher costs for the traveller, impacting demand and adversely affecting the development of air transport and tourism industries, which generate thousands of jobs and contribute to the country's economic growth."
"Good practices and concrete examples demonstrate how balanced and efficient taxation attracts international and domestic travellers, activates multiple industries and generates greater revenues for the state and the population," ALTA's Botelho adds. "It is important to emphasize that aviation is one of the most aggravated industries worldwide. In Argentina, it is even more so."