Following the travails of the coronavirus pandemic, Asia-Pacific airlines are once again focused on growth, according to Airbus's Asia-Pacific chief.
The pandemic saw airlines focusing mainly on survival, specifically with ways to manage their fleet and restructure deliveries, according to Anand Stanley, president of Airbus Asia-Pacific. The removal of travel restrictions around the region in 2022 has seen airlines striking a far more optimistic tone.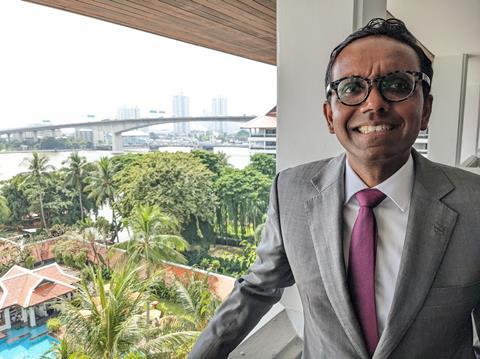 Stanley says Airbus's discussions with airlines are in a "sharp contrast" from a few years ago, and points to the positive financial results coming from airlines following the Asia-Pacific's travel reboot.
"Most CEOs are asking how do we sustain this?" says Stanley. "How do we sustain capacity? How do we sustain growth? They are all in a growth mode…there is less of a risk discussion today than there was a year or two years ago."
Stanley spoke with FlightGlobal at the Association of Asia Pacific Airlines 66th Assembly of Presidents, which is taking place in Bangkok from 10-11 November.
An element in the growth conversation, says Stanley, is how widebodies fit in. He points out that from a widebody perspective, 2022 was a strong year for Airbus. He highlights three high profile orders: Singapore Airlines' firming up orders for seven A350 freighters, Qantas's order for 12 A350-1000s under its 'Project Sunrise' long-range airliner initiative, and Malaysia Airlines' order for 20 A330neos to recapitalise its widebody fleet.
"All three are signs that widebodies are coming back," says Stanley. "Almost all countries in the Asia-Pacific region are having some sort of widebody discussion."
He feels that this reflects a focus on the medium to long-haul markets, and airlines' desire to capitalise on "wide, thick routes…that are extremely efficient and profitable."
He is particularly upbeat on the A330neo, noting that there are about 560 A330ceos that will need replacing in the Asia-Pacific, in addition to Airbus's forecast Asia-Pacific market demand for a further 3,000 widebody jets in the coming 20 years.
As for the larger A350 family, he casts it as a replacement for a broad number of types, from older Boeing 747s and 777s up to larger aircraft, such as A340s and 747s.
Stanley also underlined Airbus's commitment to decarbonising aviation. For a start, he observes that newer types are far more efficient from an emissions perspective than the type's they are replacing. He gives the example of the A350F flying the same route as a 747-400F burns 40% less fuel.
He stresses that Airbus is fully committed to the industry's 2050 decarbonisation goals. He believes there is great cause for optimism given the significant improvements seen in aircraft fuel consumption over the last few decades, in addition to investments in new areas such sustainable aviation fuel and hydrogen.
Updated to clarify that 560 A330ceos need replacing in the Asia-Pacific.