Association of Asia Pacific Airlines (AAPA) director general Subhas Menon stresses that coronavirus vaccines and more harmony on travel rules and restrictions are key to getting the region flying again.
Menon observes that the world is breaking into two distinct blocs. In the first are countries and regions – such as the USA and Europe – that have seen relatively successful vaccination campaigns. This allows travel – mainly domestic, for now – to pick up.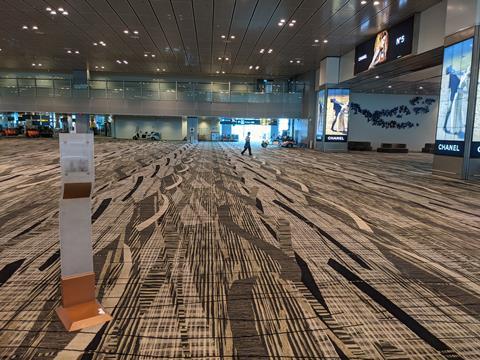 The Asia-Pacific, where vaccination campaigns have lagged, is in the second bloc.
"In Asia-Pacific, where vaccination rates [are low] in most places, aside from some exceptions like Singapore and Mongolia, you're talking about 16% and below," he says.
He notes that travel restrictions in the region are actually tighter than they were in 2020. "So, a recovery in the Asia-Pacific is not on the horizon yet."
Last week, AAPA reported that the region's airlines carried 1.4 million passengers on scheduled international services in June, just 4.4% of the 32 million carried in pre-pandemic 2019.
Even so, Menon feels that the region's airlines, for the most part, are in better shape than 12 months ago. Losses have narrowed, costs have come down, some have restructured, and some have secured funds either from the capital markets or governments.
Airlines have also benefit from a vibrant cargo market. The association notes that in June international FTKs for Asia-Pacific carriers grew 25.7% year on year, with volumes matching June 2019.
Beyond vaccinations, another challenge is the plethora of Covid-19 testing requirements and quarantine restrictions travellers face, which disincentivize travel.
"We need to find a way harmonising these things, and given people an easy way to navigate requirements," says Menon.
Based in Kuala Lumpur, AAPA represents 14 major airlines that primarily operate with full-service business models. Some analysts have forwarded the view that low-cost carriers will be the main beneficiaries when Asia-Pacific air travel eventually recovers.
Asked for his perspective on this, Menon does not believe "any particular model is going to benefit from this," but he does agree with the view that leisure travel, and particularly VFR (visiting friend and relatives) will drive the recovery.
"VFR is a resilient market, and people cannot live without getting together and attending events and things like that. This is going to be a real factor, and cost is not an impediment for this market, because they just have to get on with it and go meet their friends and relatives."