It is still too early to determine how quickly the Chinese international travel market will recover, though it is clear there is "no let-up" in recovery momentum in the greater Asia-Pacific region, according to the Association of Asia Pacific Airlines (AAPA).
The association's director-general Subhas Menon adds that projections indicate the region's carriers will be close to full recovery by early 2024, with China's reopening helping to improve prospects.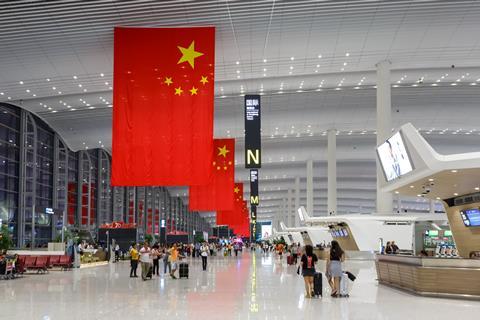 Menon, who was speaking to reporters at the sidelines of the Aviation Festival Asia held in Singapore on 28 February, said airlines should capitalise on the reopening, but notes that some have been "hamstrung" by the sudden nature of Beijing's decision to scrap most of its 'zero-Covid' policies in early January.
"You…must remember that until the beginning of December the Chinese government were still sticking to their 'zero-Covid' strategy…and nobody expected China to open up even in 2023. So airlines…were not prepared, and they had put capacity elsewhere," says Menon.
According to the AAPA, China used to account for about a fifth of Asia-Pacific international travel demand pre-Covid, but that figure has dwindled to single digits amid the pandemic.
On a slower-than-expected capacity recovery to China, Menon says: "I think everyone is managing expectations, but this is a short-term issue. I don't think it will be around for long."
In wide-ranging comments, Menon also urges airlines to "take advantage of the opportunities" presented by borders in the region being mostly reopened. "[There's] no point thinking that…the demand won't last long…you just have to take advantage of [the rise in demand]," he says.
Menon flags a gap between demand and capacity in the market, pointing out that airlines have been "cautious" in their supply ramp-up. "[Airlines] want to make sure that they have all the resources in place before they ramp up flights to the same level," says Menon.
"Airlines in this region have learnt the lessons of the West: we saw what happened in Europe and [North] America, where they just put on as many flights as they could…and the airports couldn't cope with it," he adds, referencing the travel chaos that unravelled in the summer of 2022. Other challenges include those on the macroeconomic front, like fuel costs, as well as inflationary pressures.