Asia-Pacific countries have entered agreements to improve the management of flights in the region, which could see aircraft operating more direct, faster routes and help reduce emissions.
The air navigation service providers of China, Indonesia, Japan, New Zealand, the Philippines, Singapore, Thailand, and the USA entered an agreement for a TBO (Trajectory Based Operations) Pathfinder project, which will demonstrate TBO in the region within four years, according to the Civil Aviation Authority of Singapore.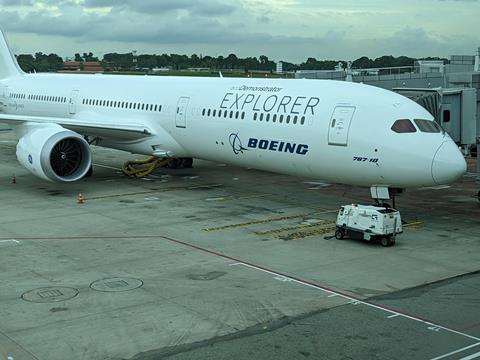 IATA and ICAO also signed the agreement.
"Under TBO, ANSPs work together to plan and optimise an aircraft's entire flight trajectory across [Flight Information Regions], from take-off to touchdown, and share information, such as on weather, airspace closures, and other traffic constraints," says CAAS.
"This will allow ANSPs to manage air traffic strategically ahead of time, rather than make reactive course corrections as and when information becomes available."
The TBO Pathfinder initiative builds on a TBO demonstration flight earlier this year involving the Boeing 787-10 ecoDemonstrator Explorer aircraft. This project saw four ANSPs facilitate the world's first multi-regional, trajectory-based operations.
CAAS, along with its Japan, Thailand, and USA counterparts were behind the project in cooperation with Boeing.
In addition to the TBO Pathfinder project, Indonesia, New Zealand, Singapore, the Civil Air Navigation Services Organisation (CANSO), and IATA have entered an agreement on the Southeast Asia-Oceana implementation of the Free Route Operations (FRTO) project. Within a year, the parties will identify and validate the use of FRTO between defined city pairs.
"In a traditionally structured [air traffic management] system, aircraft follow a network of predefined routes akin to highways in the sky," says CAAS.
"Under FRTO, the skies can be treated as an open canvas, where aircraft are allowed the freedom to choose the most efficient and effective path to their destination, reducing the distance travelled, flight time, fuel burn, and emissions. This enables more efficient use of airspace and enhances air traffic flow management."