The head of the Association of Asia Pacific Airlines (AAPA) head says that international passenger traffic continues to rebound strongly, but that there are headwinds – especially for the air cargo market.
AAPA director general Subhas Menon says high vaccination rates in the Asia-Pacific have unleashed pent-up demand for air travel, which had been held in check by travel restrictions related to the coronavirus pandemic.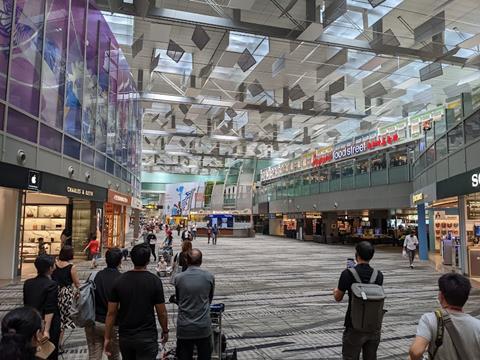 He notes that key travel markets such as India and Indonesia have opened up, somewhat offsetting China's continued closure amid Beijing's zero-Covid stance.
"In May flights are really chock-a-block – all the flights are so full that it is hard to get a seat," he says. "Forward bookings indicate that it will be even more than what it was in May in terms of demand. People talk about revenge travel…pent-up demand is very strong. I think this will carry us through."
In addition to leisure travel, there are also signs that business travel is also doing well.
Menon was speaking with FlightGlobal in Singapore.
AAPA's April 2022 preliminary international traffic numbers underline Menon's optimism. During the month, the 40 carriers covered in AAPA's numbers carried 4.8 million international passengers, up nearly fourfold from April 2021, when the region was mired in travel restrictions.
ASKs nearly doubled year on year and RPKs rose four-fold. Load factors during April were 64.9%, up 36.3 percentage points from a year earlier.
Still, Menon is concerned that Russia's invasion of Ukraine and China's continued lockdowns will continue feeding inflation, which will reduce the disposable income available for travel. China's lockdown also affects supply chains, which is bad news for air cargo.
Menon observes that air cargo, which proved a lifeline for Asia-Pacific carriers during the pandemic, is showing signs of weakness.
AAPA's April figures show that the Asia's international FTKs fell 8.5% from a year earlier, while capacity as measured by FATKs fell 3.1%. Freight load factors in April were 70.3%, 4.2 percentage points lower than in April 2021. Menon adds that international cargo demand fell 1.6% in the first four months of 2022 as compared with the first four months of 2021.
As for the continued absence of the key Chinese passenger market, Menon suggests that airlines have plenty of opportunities with the existing rate of opening, and that eventually China is bound to come around.
There are also lingering testing requirements, such as that imposed by the USA for arriving passengers.
"IATA, ourselves, and [Airports Council International] have been writing a lot of letters and talking to government officials and telling them to lift the testing requirement because testing is a deterrent [to travel]," says Menon.
"Quarantine was the biggest deterrent, but testing is also a deterrent – especially if you have to test before you board."