Boeing sees the Asia-Pacific region leading demand for new aircraft in the 2020s and 2030s, forecasting that air traffic growth in the region will outpace both world air traffic growth and world gross domestic product (GDP) growth.
Using 2019 as a starting point, Boeing expects RPK growth within the region to run at 5% annually thru 2040, well ahead of average annual world traffic growth of 4%, and global GDP growth of 2.7%.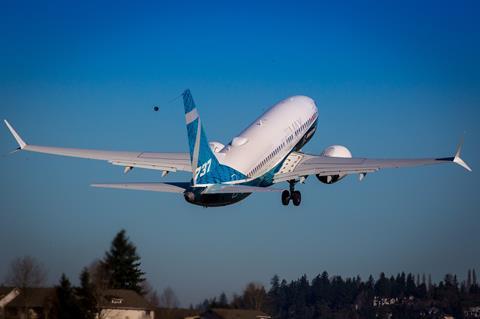 According to Boeing's Commercial Market Outlook for the region, this growth will drive demand for 17,645 new aircraft valued at $3.1 trillion, as well as aftermarket services valued at $3.7 trillion.
The forecasts were made by Darren Hulst, Boeing's vice president of commercial marketing, in a briefing with Asia-Pacific reporters. On why Boeing discounted the year 2020, in which air traffic collapsed amid the coronavirus pandemic, Hulst says is not representative of longer-term industry trends.
He expects domestic markets such as Brazil, India, Southeast Asia, and the USA to recover to 2019 levels by the end of 2022.
"We have seen strong resilience in Asia Pacific traffic when restrictions are lifted and passengers feel confident about travel," says Hulst. "Carriers with efficient and versatile fleets will be positioned to meet passenger needs and air freight demand with airplanes that reduce fuel use, emissions and operating costs."
Of the overall Asia-Pacific requirement through 2040, narrowbodies will account for "nearly 13,500" deliveries, or about 75% of the total. Widebody aircraft cargo will see demand for "nearly 3,800" aircraft.
Hulst also disclosed that the Asia-Pacific will require 1,000 new and converted freighters by 2040, ahead of North American demand for just over 800 freighters.
Nearly half of this demand, at nearly 500 airframes, will be filled by narrowbody conversions. The rest will be a mix of new medium-sized widebodies, new large widebodies, and widebody conversions.
Hulst adds that overall it has been a record year for freighter orders, with 135 orders. These comprise 55 737-800BCFs, 40 767-300F/BCFs, 36 777Fs, and four 747-8Fs.
In regard to the Covid-19 recovery, Hulst displayed a slide showing a direct correlation between the lifting of travel restrictions and the increase of flight operations in China, Germany, and the USA.
"I don't think demand is a problem, as vaccination rates continue to rise, and as case counts remain manageable around the world of there's plenty of demand," he says.
"Airlines are prepared to provide the supply in terms of airplanes and seats, and the key element that continues to be dynamic around the world is the level of regulation and the restrictions around travel, especially in the international space…it's really about the coordination to enable the recovery between governments."