South Korea's Asiana Airlines has raised W110 billion ($97 million) from privately placed corporate bonds.
These comprise three tranches – W57 billion with a one-year maturity, W23 billion due in 18 months, and W30 billion with a two-year tenor, the airline says in a statement today.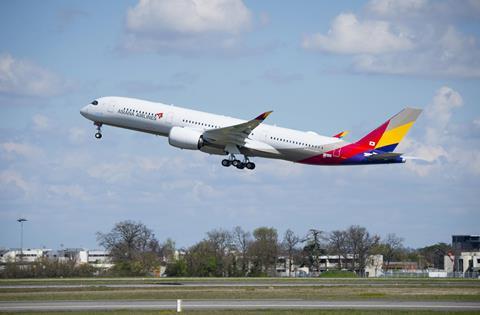 This is Asiana's first bond issuance exceeding W100 million since 2015 and investor response was better than expected, the airline states, reflecting positive market outlook of its ongoing, government-backed merger with Korean Air, along with expectations for a recovery from the pandemic and good cargo performance.
"The market's expectation for the merger and acquisition with Korean Air was the driving force behind the issuance of the private placement bonds," Asiana states.
The airline adds that due to the Covid-19 pandemic, it is currently experiencing worsening domestic and overseas business environments, reduced sales and lack of liquidity.
Separately, Asiana recently gave low-cost affiliate Air Busan a W30 billion cash injection, by acquiring non-guaranteed 30-year convertible bonds, according to the airlines' Korean-language corporate disclosures dated 24 June.
The issuance matures on 24 June 2051 and is convertible from 25 June 2022 to 24 May 2051, at a tentative conversion price of W3,527 per share, reflecting Air Busan's one-month volume-weighted average share price. It may be redeemed early in multiples of W10 billion.
The bond pays 7.2% coupon in the first two years. The rate then goes up by 2.5% per annum plus an adjustment pegged to the two-year Korea Treasury Bond rate and this holds for the third to fifth years. From the sixth year on, the interest rate goes up every year, by 0.5% per annum.
Asiana made a similar cash injection into Air Busan earlier this year, via convertible bonds of the same principal, coupon and tenor, maturing on 24 March 2051.