Asiana Airlines is set to divest its cargo unit, ending an impasse on acquisition plans from compatriot Korean Air, and paving the way for possible European regulatory approval for the impending merger.
At a meeting on 2 November, Asiana's board approved Korean Air's "corrective action plan" – to be submitted to European competition regulators – which include the sale of Asiana's cargo operations to another South Korean operator.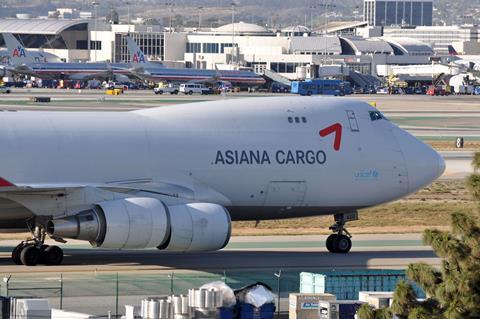 The reversal comes three days after the airline failed to arrive at a decision on whether or not to accept the plan.
The divestment of Asiana's cargo operations is seen as a crucial factor in winning European regulatory approval. Korean Air, which in November 2020 announced it would be acquiring its smaller rival, had also proposed to relinquish slots on four European routes: Paris, Frankfurt, Rome and Barcelona.
According to Cirium fleets data, Asiana has 11 freighters in its fleet, comprising 10 Boeing 747-400Fs and a sole 767-300ERF.
The European Union remains one of the major jurisdictions yet to approve the merger between South Korea's two largest carriers. Regulators in the USA and Japan have also yet to greenlight the acquisition.
In a statement following the Asiana board's approval, Korean Air says it has submitted its plan to the European Commission, adding that it expects this "to facilitate the remaining process".
The SkyTeam carrier adds: "While Korean Air continues its efforts to secure the approval from the European Commission, the airline will also communicate closely with the remaining regulatory bodies to finalise the approval process as quickly as possible."
The European Commission in May opposed the merger, citing the potential reduction in competition between South Korea and the European Economic Area and Europe. In particular, the commission felt that the merger would reduce competition on passenger routes between South Korea and France, Germany, Italy, and Spain. It added that the deal would also hurt competition in the cargo sector.