Asiana Airlines has failed to come to a decision on whether to divest its cargo unit – a crucial factor in winning regulatory approval for a merger with compatriot Korean Air – adding uncertainty to the drawn-out acquisition process.
Asiana's board convened on 30 October to discuss whether to accept Korean Air's proposal – a "corrective action plan" to be submitted to European competition regulators – which includes the sale of Asiana's cargo operations.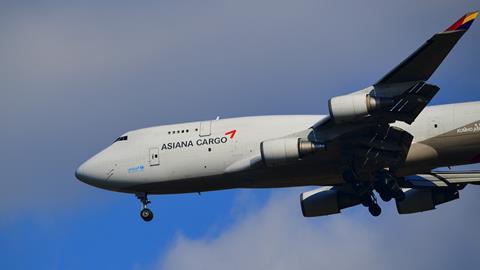 Asiana, the country's second-largest carrier, says in a stock exchange filing that "a vote on the matter was not completed".
In turn, the board will meet again to discuss details of the proposal. While Asiana did not say when this would take place, it says a second meeting will be scheduled "within a month".
Korean Air, which in November 2020 announced it would be acquiring its smaller rival, had intended to submit its proposal to address European regulators' merger concerns by end-October. It will now have to ask for more time to make submissions.
Apart from selling off Asiana's cargo unit, Korean Air had proposed to relinquish slots on four European routes: Paris, Frankfurt, Rome and Barcelona.
While Korean Air has gained approvals from several regulators, including in Singapore, the UK and China, it has faltered in major jurisdictions such as the EU, USA and Japan.
The European Commission in May opposed the merger, citing the potential reduction in competition between South Korea and the European Economic Area and Europe. In particular, the commission felt that the merger would reduce competition on passenger routes between South Korea and France, Germany, Italy, and Spain. It added that the deal would also hurt competition in the cargo sector.