Asiana Airlines has modified two Airbus A350-900 passenger jets for freighter operations as part of plans to grow its cargo business.
The conversion of both A350s, completed on 21 February, will enable the airline to transport 23t per aircraft, the airline said in a 22 February statement. The economy section of each aircraft was converted into a cargo hold, with 24 air cargo pallets installed on the cabin floor.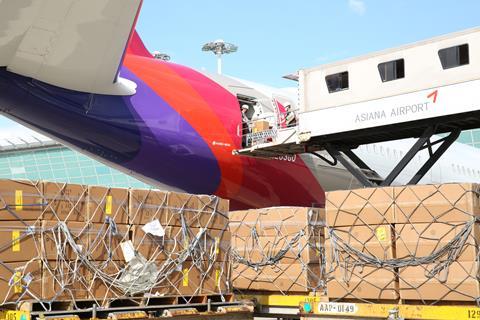 The airline says it intends to "strengthen its global cargo network in Asia, North America and Europe by introducing modified cargo planes", adding that it is "fully prepared for the transportation of various medicines", including Covid-19 vaccines.
The airline adds: "With the innovative strategy of converting passenger planes into freighters, cargo transport capacity has further improved."
Last year, the airline's cargo sales grew by 64% to reach W2.14 trillion ($1.92 billion).
The airline added 849 additional cargo flights, having previously converted two A350-900s into freighters and deployed idle aircraft for cargo, which generated W88.5 billion in sales.