Asiana Airlines widened its first-quarter net loss on the back of foreign exchange losses, and despite improving on its operating profit as travel demand picked up.
For the three months to 31 March, the Star Alliance carrier posted a net loss of W54.4 billion ($40.7 million), widening from the W46.6 billion loss in the year-ago period. The airline incurred hefty exchange losses amid a weaker Korean Won, its financial statements show.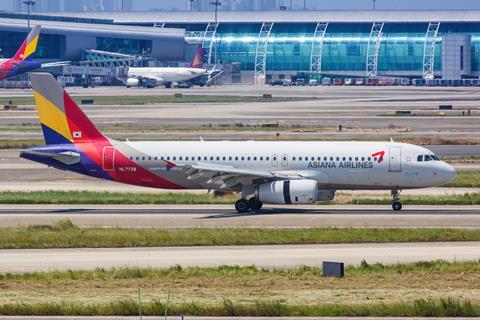 However, the airline saw a 16% jump in operating profit to W166 billion, helped by a strong uptick in revenue.
Quarterly revenue grew more than 40% year on year to W1.7 trillion, led by a five-fold increase in international travel revenue. The airline saw international traffic jump six-fold year on year, as it resumed flights across its network.
Domestic traffic held steady against the year-ago period, though domestic travel revenue grew around 53% on the back of increasing yields.
Asiana reported a 43% jump in quarterly costs, to around W1.6 trillion. It says costs relating to fuel, manpower, as well as maintenance have gone up year on year, as the airline increased its operations.
The airline ended the quarter with 66 passenger aircraft and 11 freighters in its fleet, unchanged from the end of 2022.