Asiana Airlines' shares resumed trading on 16 July, having been suspended on 26 May after two former executives were charged with embezzlement.
The South Korean airline says in a 19 July statement that it has prepared and submitted a management improvement plan to reinforce its governance and financial structure in order to prevent a future suspension.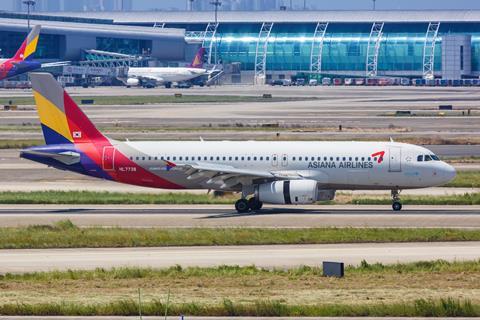 "I bow my head and apologise for causing a lot of disappointment to shareholders and stakeholders due to the suspension of trading due to the listing qualification review," chief executive Jung Sung-kwon states.
"We will do our best to prevent recurrence through monitoring. In addition, we will do our best to restore market trust and enhance shareholder value by faithfully carrying out our main business."
Trading of the airline's shares was suspended on 26 May, a minute before market close, ahead of a 27 May disclosure that two former executives had been charged with embezzlement.
The carrier says it will establish a "transparent decision-making structure" and strengthen the independence of the board by separating the chairman of the board of directors and the representative director, "while establishing transparency in management and a stable governance structure by separating the company's decision-making and business execution".
In addition, committees focused on environmental, social and governance (ESG) issues, compensation and safety will be newly established within the board of directors to "further strengthen the external management-monitoring function".
The ESG taskforce was launched on 12 July and is headed up by managing director Young-seok Cho.
Asiana Airlines says it plans to "faithfully" implement the post-merger integration plan with Korean Air to "maximise synergy" between the two companies, thereby "strengthening the company's competitiveness and contributing to enhancing the competitiveness of the national logistics industry".
Korean Air in November signed a deal to acquire Asiana Airlines via new shares and perpetual convertible bonds.