ASL Aviation Holdings has signed an agreement with advanced propulsion developer ZeroAvia for the conversion of ATR 72 freighters to hydrogen-electric power, the group's second such modification pact.
Under the deal, Ireland-headquartered ASL will provide a retired ATR 72 freighter for the development effort and to subsequently serve as a demonstrator aircraft. The airframe for the project has yet to be identified.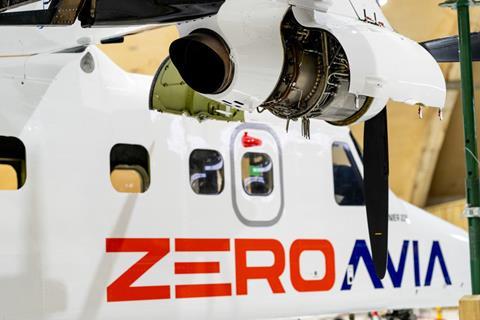 In addition, assuming the project can be brought to certification, the pact will ultimately see ASL place an order covering the adaption of 10 of its aircraft to use the new hydrogen fuel cell powertrain.
Operations with the modified freighters are due to commence in 2026.
In October, ASL signed a letter of intent with Universal Hydrogen for a similar conversion project for up to 10 ATR 72 freighters. ASL says both agreements are valid.
Universal Hydrogen and ZeroAvia are members of the ASL CargoVision Forum, an initiative to drive innovation and sustainability in the air cargo industry.
Other forum participants include electric aircraft developers Eviation and Pipistrel, electric motor manufacturers Magnix and Verdego, engineering firm Flylogix and automation specialist Reliable Robotics.
Dave Andrew, chief executive of ASL Aviation Holdings, says: "This deal with ZeroAvia's further strengthens ASL's commitment to being a first-mover in the introduction of new emissions reduction technology in our current fleet."
Cirium fleets data suggests ASL group carriers currently operate six ATR 72s – predominantly -200s – with two examples in storage. A further airframe (EI-SLY) is listed as having been retired in March this year.
Separately, ZeroAvia has signed an agreement with India's Hindustan Aeronautics (HAL) to develop a retrofit of its 600kW ZA600 powertrain for the Dornier 228 twin-turboprop.
To be incorporated by a supplemental type certificate, this would be available for the Indian armed forces and coastguard, which operate a combined 102 Do 228s, plus other customers worldwide. Around 250 examples are currently in service globally.
HAL continues to build Do 228s as the Hindustan 228 and could later seek to add the ZA600 engines as a line-fit option.
ZeroAvia is already converting a pair of Do 228s under the UK government-backed HyFlyer II programme.
In addition, the developer recently struck deals to explore the conversion of De Havilland Canada Dash 8-400 twin-turboprops and Bombardier CRJ regional jets.