Air New Zealand and Qantas Airways have opposed Auckland Airport's plan to sharply boost aeronautical charges to pay for a new domestic terminal.
For the five-year period starting 1 July, domestic jet travel, regional airline, and international charges will all rise, according to the airport.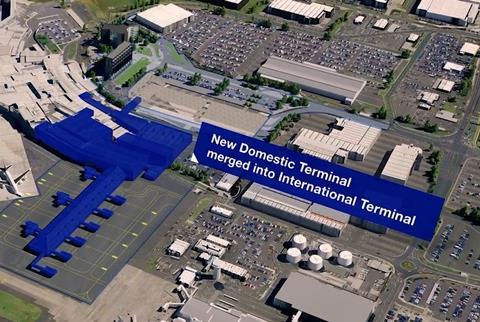 Domestic jet travel and international charges will more than double from NZ$6.75 ($4.09) now to NZ$15.45 by the 2027 financial year; international charges will rise from NZ$23.40 to NZ$46.10.
Air NZ and Qantas responded with a joint statement, with remarks from chief executives Greg Foran and Alan Joyce.
"We all agree that some investment in Auckland Airport is necessary," says Air NZ's Foran.
"However, this is an enormous spend over a short period of time that adds almost no additional capacity. All it is expected to result in is more costs for everyone who uses, relies on, or passes through the airport, including the aviation industry, the tourism industry, the whole economy, and Air New Zealand's passengers."
Qantas's Joyce also expressed his opposition to the higher charges: ""Airlines accept that investment is needed, but what [Auckland Airport] is proposing goes far beyond what is needed or affordable."
Joyce also warns of the potential for cost overruns.
In March, Auckland Airport announced plans for a new domestic terminal, in the airport's biggest redevelopment since it opened in 1966.
The new domestic terminal will see both domestic and international flights moved under one roof, as part of a broader NZ$3.9 billion construction programme to take place over 5-7 years.
Auckland Airport, for its part, justifies the increase in aeronautical charges, noting that they are lower than for other airports in the region, and have been reviewed by New Zealand's commerce commission.
"These changes have not been introduced lightly, particularly in the current economic environment," says Auckland Airport chief executive Carrie Hurihanganui.
"We are very mindful of cost to our airline partners and ultimately travellers. That's why we have been working hard to deliver a pragmatic and affordable solution while responding to airline requests for changes as much as possible."
Separately, Air NZ issued improved earnings guidance for its 2023 financial year. For the 12 months ending 30 June, it expects pre-tax profits of NZ$580 million, up from April's guidance in a range of NZ$510-560 million.
"Since the previous update, the airline has experienced stronger ongoing demand than usually observed at this time of the year, which is typically considered the airline's off-peak period," says Air NZ.
"In addition to this, US dollar jet fuel prices have declined even further and have been consistently below those assumed in the earnings guidance provided in April."