The Australian Competition and Consumer Commission (ACCC) is proposing to block Qantas' plans to renew its partnership with China Eastern Airlines, citing price hike concerns amid a return of Chinese travellers to Australia.
The draft decision, issued 15 September, is an about-turn from the commission's interim approval in March, for both carriers to continue coordinating their schedules on flights between Australia and Mainland China.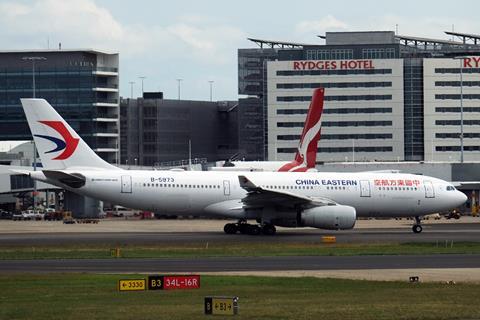 Qantas and China Eastern had sought a renewal of their partnership, which first began in 2021, to allow them to coordinate passenger and cargo operations between the two countries through March 2024.
China Eastern is currently the only carrier flying from Shanghai to Sydney, and Qantas has indicated plans to launch flights between the two cities later this year.
ACCC commissioner Anna Brakey says the regulator was "not satisfied" that the public benefits of the partnership would "outweigh the harm to competition".
She adds: "We are concerned that the authorisation would provide Qantas and China Eastern with the opportunity and incentive to increase prices, compared to what they would charge absent the alliance, by limiting or delaying the introduction of additional capacity on the Sydney-Shanghai route as passenger demand continues to grow."
The ACCC also notes that "any additional service" on routes other than Sydney-Shanghai would be beneficial, but that it does not see that happening between now and March 2024.
Brakey adds: "A key difference between now and the previous authorisations is we have not been provided with sufficient evidence that the coordination would lead to additional services on other routes between Australia and China."
The commission has called for submissions in response to its draft determination, and a final decision will be made after 6 October.
The ACCC's draft decision comes amid a string of controversies at the national carrier. In late August, the regulator sued Qantas for allegedly selling tickets for thousands of already-cancelled flights and for keeping its customers in the dark about cancellations.
The airline was also taken to task over the retention of Covid-19 travel credit, and has gotten flak over a well-publicised series of operational snags in 2022.
Amid the outcry, Qantas announced the abrupt retirement of its long-time CEO Alan Joyce in September, much earlier than originally planned.