The Australian Competition and Consumer Commission (ACCC) has allowed Qantas and Emirates to continue coordinating their operations for another five years.
In a statement issued 17 August, the competition regulator also raised concern that the alliance will impact competition on flights between Sydney and Christchurch, where Air New Zealand is the only other airline operating that route.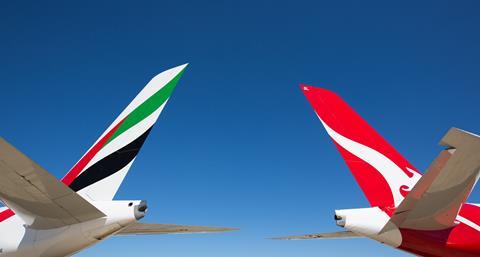 To this end, ACCC commissioner Anna Brakey says Qantas and Emirates must provide the commission with "regular updates" on revenue and operating costs "to enable us to monitor competition on this route over the next five years".
Emirates has a single daily flight between Sydney and Christchurch, while Qantas flies 11 times weekly. Air New Zealand, meanwhile, has a daily flight between the two cities.
Emirates and Qantas first entered into the partnership in 2013, with the ACCC approving the extension of the alliance in 2018. The previous approval expired in March this year, but the ACCC gave an interim authorisation while it assessed substantive application.
Commenting on the latest renewal, Brakey says: "We think this continual coordination will benefit travellers by facilitating connectivity between a wide range of destinations as well as optimising earning and redemption opportunities from their respective loyalty rewards programs."
The coordination also covers Qantas low-cost unit Jetstar, as well as cargo operations across both airlines' networks. These networks cover routes between Australia and the UK/Europe, New Zealand, Asia, the Middle East as well as North Africa, the ACCC adds.