Australia's competition watchdog has rejected an extension of a charter partnership between Virgin Australia and Alliance Aviation, following a six-month consultation period in which it found low support for a continued alliance.
In a statement issued 5 May, the Australian Competition and Consumer Commission (ACCC) notes that the partnership involves the second- and third-largest providers of fly-in, fly-out (FIFO) services in the lucrative resources market.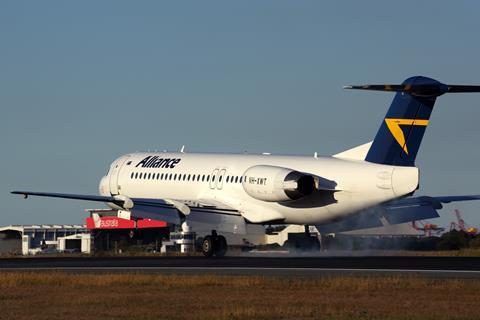 Both operators, the commission says, "have not demonstrated to us that there's sufficient public benefit" – including cost savings and operational flexibility – that would outweigh the "likely detriment" from the partnership.
The commission in May 2017 gave the green light for Virgin Australia and Alliance Aviation to "cooperate, coordinate and jointly bid for, and provide, FIFO and value-added services to corporate customers".
In October 2022, the ACCC proposed to reject the partnership, an about-turn from an interim authorisation for the renewal granted months prior.
Since then, it called for submissions from interested parties about its proposal, especially from FIFO customers.
The ACCC says that while "there is some support" for the partnership, "a number of customers do not place significant value" on the combined service offerings, and would prefer both carriers to submit stand-alone bids.
It notes that the alliance "has not delivered" the public benefits that were promised in 2017.
"The ACCC took into account the past experience of the charter alliance's operations in its assessment of the likelihood and extent of public benefits that the airlines claimed would arise if the alliance was re-authorised," the commission states.
Adds commission chair Gina Cass-Gottlieb: "We're concerned that continuing the charter alliance is likely to reduce the number of bidders in tender processes for charter services, particularly when there would only be one other large provider of these services, and so the potential incentives to reduce service levels or raise prices for FIFO charter services would remain."
The ACCC's final determination comes more than a week after it rejected national carrier Qantas' plans to fully acquire Alliance Aviation, noting that the move would hurt competition in the air services market that supports the resources sector in the states of Queensland and Western Australia.