Australian low-cost startup Bonza is eyeing a September launch with three Boeing 737 Max 8s.
According to chief executive Tim Jordan, two aircraft will arrive in July and one in August. The aircraft will be based at Sunshine Coast on the country's eastern seaboard north of Brisbane. Initially, one of the three aircraft will serve as a spare.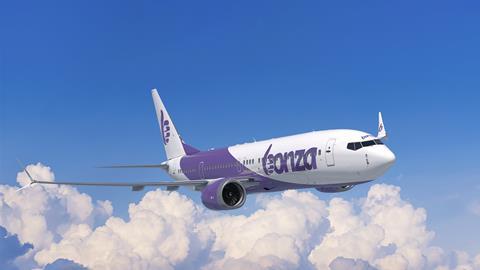 "[The spare aircraft] is a very significant commitment to the market," says Jordan. "We're trying to learn from previous experiences in the marketplace whereby you get one opportunity to create a good first impression, and we need to grab that with both hands."
The aircraft will come from the orderbook of Miami finance company 777 Partners, which owns a majority stake in Bonza. Overall, 777 Partners has announced orders for 68 737 Max jets, with four order announcements made over the course of 2021.
The carrier aims to grow to eight aircraft in its first 12 months of operation. Fleet growth beyond this is, as Jordan puts it, somewhat "fluid", as some aircraft may go to Canada's Flair Airlines, in which 777 Partners owns a minority stake.
Bonza is also in the process of hiring 200 crew members to serve aboard its first five jets.
Bonza had intended to start earlier in 2022, but delays with the delivery of its 737 Max 8s pushed this back. Only now is it comfortable specifying a month for starting up.
Speaking to FlightGlobal, Jordan says that the 737 delivery delays stem from "supply chain" issues, and that Boeing has been very supportive of its efforts to get airborne.
Another item of business is securing an Air Operator's Certificate (AOC) from Australia's Civil Aviation Safety Authority (CASA).
"This the first high capacity AOC in Australia from start to issuance in the last fifteen years," says Jordan. The last such AOC involved Tigerair Australia, which ultimately became part of Virgin Australia.
Bonza has worked with CASA since before its initial launch announcement, and Jordan says the "process is continuing very positively."
Unlike Tigerair, Bonza will eschew the competitive Australian trunk routes between Brisbane, Melbourne, and Sydney. Instead it will focus on pioneering new routes, enticing passengers with low fares.
Its only route between two big locations will be a Melbourne-Sun Coast service, but this is primarily intended as a re-positioning flight – the company's fourth and fifth aircraft will be based at Melbourne.
Jordan stresses that Bonza is not about taking business from existing carriers. Of its 17 destinations, only one – Melbourne – is a capital city. And of the 27 routes it has announced, 85% are flown by no other carrier. Of its 27 routes, 96% have no low-cost product.
"It really is fulfilling the promise of delivering something different to the Australian market and the Australian consumer," says Jordan.