Australian low-cost start-up Bonza is to exit several domestic routes from August – its first network cuts since it began operations – citing the lack of 'sustainable demand'.
In an open letter to customers issued on 13 July, airline commercial chief Carly Povey says the airline is "[taking] a step back to allow our services to become more reliable", as it eliminates five routes and trims frequencies on close to 20 remaining routes from 1 August.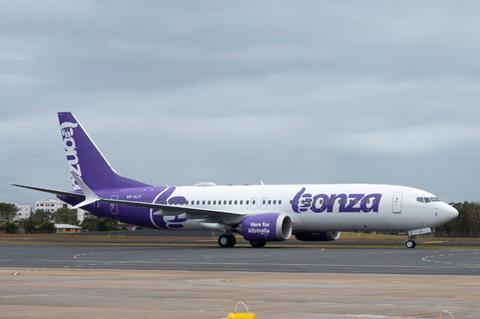 The five routes to be cut are: Sunshine Coast-Coffs Harbour, Sunshine Coast-Port Macquarie, Sunshine Coast-Tamworth, Cairns-Mackay, and Toowoomba Wellcamp-Whitsunday Coast.
Povey's comments come as the airline has had to cancel and delay several flights in recent weeks. Since its launch in late January, the Sunshine Coast, Queensland-based operator has been bullish on its expansion plans, targeting an initial route map of 27 routes to 17 domestic cities with a fleet of four Boeing 737 Max 8s.
The airline, Australia's first independent low-cost carrier in nearly a decade, is backed by Miami private equity firm 777 Partners. Bonza says its operating model differs from other carriers: point-to-point services from secondary cities in Australia, eschewing operations within the 'Golden Triangle' of Brisbane, Sydney and Melbourne.
Povey says the latest network rejig "will allow us to build in additional spare capacity" within its fleet, so that "we have a buffer".
She adds: "Secondly, by focusing on routes that are performing very well, we're also taking decisive action by going where the demand is and in turn, setting Bonza up for the long haul – because competition in the airline industry is a good thing and the demand for Bonza is clear."
To this end, Bonza is adding an additional weekly service to three routes where it is seeing strong demand: Sunshine Coast-Albury, Sunshine Coast-Avalon, plus Melbourne-Port Macquarie.
Povey also hints that the airline has not put off expansion plans, including looking at new bases.
"We're also working to establish a third base and with that will come new job opportunities and new routes to existing and new destinations," she adds.