British Airways and Qatar Airways have announced the expansion of their joint business to include dozens of countries from their respective networks.
The 26 September announcement marks the realisation of a plan first announced in December last year and expands an existing joint business covering connections between Doha and London.
While a "small number" of routes still require regulatory approval, the partners have added 42 countries to their shared network, including Italy, Norway, Singapore and Sweden.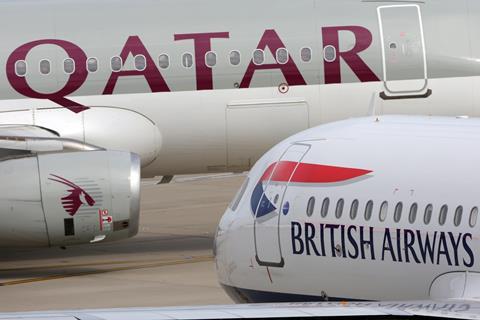 They claim that the deal creates the "world's largest airline joint business", covering destinations in Europe, the Middle East, Africa and Asia-Pacific.
The Oneworld partners add that the expansion "will enable seamless connecting journeys on single tickets through Doha and London, bringing the total number of destinations served by the two airlines to 185 across more than 60 countries".
BA chief executive Sean Doyle describes the agreements as "a huge milestone in our long-standing relationship with Qatar Airways".
The relationship between BA and Qatar Airways extends beyond the joint business and shared alliance, with the Gulf carrier already a shareholder in BA owner IAG.