Bamboo Airways will trim its operating schedule in a bid to "optimise resource allocation" and restructure operations, even as it downplays continued rumours of its survivability.
In a brief statement issued 25 July, the Vietnamese operator says it "plans to adjust the flight schedule and frequency of some routes" from August, "in an attempt to restructure the fleet for resource optimisation and efficiency improvement towards sustainable development".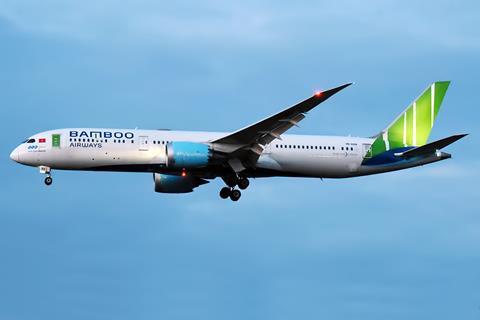 It did not go into details of expected "temporary adjustments" to its network, but states that the changes will be "communicated directly" to affected passengers.
Bamboo adds that its fleet composition will remain the same – Boeing 787-9 widebodies, Airbus A320 and A321 narrowbodies, as well as Embraer E190 regional jets. It does not indicate whether it will reduce its fleet size
According to Cirium fleets data, the airline has 30 aircraft in service, with another 10 on order.
The carrier states: "The aforementioned temporary adjustments are part of the ongoing comprehensive restructuring process that Bamboo Airways has been implementing to optimise resource allocation and improve operational efficiency, thereby better serving passengers and partners."
Bamboo's statement comes weeks after the carrier addressed concerns about its financial health.
In July, the carrier saw a raft of leadership changes, starting with the resignation of former chief executive Nguyen Minh Hai after less than two months in the top role. He was succeeded by acting chief executive Nguyen Ngoc Trung.
This was followed by the resignation of four directors less than a month after being appointed, including the airline's chairman Oshima Hideki who formerly was with Japan Airlines.
Local property group Him Lam took control of the airline as its strategic investor, moving the airline away from previous owner FLC Group, which itself faces legal and financial issues. FLC's then-chairman was arrested in 2022 on allegations of stock manipulation, and FLC was delisted from the Ho Chi Minh City Stock Exchange in early 2023.