Vietnamese carrier Bamboo Airways maintains that operations continue as normal, amid rapid leadership changes at the carrier.
"Up to now, Bamboo Airways is still operating stably, ensuring on-time and absolutely safe flights," says the carrier.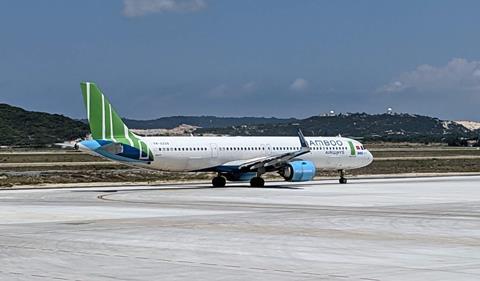 "We will continue to develop the flight network, optimize all resources to continue serving customers, and provide high-quality, hospitable and dedicated aviation services."
Bamboo's statement comes days after four directors stepped down less than one month after being appointed at the company's annual general meeting on 22 June.
One of the four board members to step down was Oshima Hideki, who served as chairman for less than one month. Hideki was formerly a senior executive at Japan Airlines.
The new chairman, Le Thai Sam, holds over 50% of the carrier's charter capital.
The board changes followed the resignation of former chief executive Nguyen Minh Hai after less than two months in the top role. He was succeeded by acting chief executive Nguyen Ngoc Trung.
A 13 July statement from Bamboo had this to say of the changes: "The structural adjustment in the [board of directors] and [management] of Bamboo Airways is part of the process of consolidation [of] the management apparatus and gearing up the organizational restructuring."
According to Vietnam's VN Express news outlet, there are concerns in Vietnam about the carrier's financial stability, and that the carrier's statement sought to address these.
Bamboo is having a challenging 2023, with local property group Him Lam recently taking over as strategic investor. Japanese investors have also put money into the airline.
The Him Lam move apparently distanced the carrier from former controlling shareholder FLC Group, a property group that has faced significant legal challenges from the Vietnamese government. The company's then chairman was arrested in 2022 on allegations of stock manipulation, and FLC was delisted from the Ho Chi Minh City Stock Exchange in early 2023.