Vietnam's Bamboo Airways will establish a new cargo carrier, as it seeks to expand in Vietnam's aviation sector.
The cargo unit will be called Bamboo Airways Cargo (BAC), according to the carrier, which provides little detail on the planned venture, such as when it aims to start operations and its fleet composition.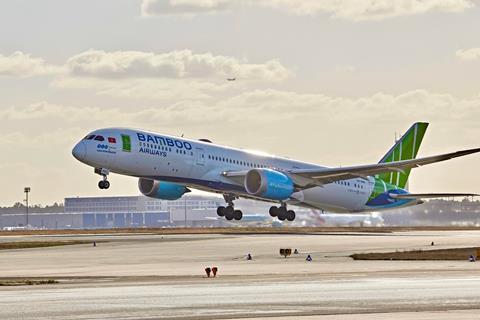 Local news outlet VnExpress reports that the startup capital of the new carrier will be D20 billion ($852,000), of which Bamboo will put up 75%. The remainder will come from three other shareholders.
BAC's chief executive will be Bamboo director Nguyen Khac Hai.
Bamboo's interest in setting up a cargo carrier follows news in September 2022 that Vietravel Airlines will stand up a new cargo carrier, VUAir Cargo. It noted that Vietnam is increasing in importance as a manufacturing destination given that international companies are trying to shift supply chains away from Mainland China.
Vietnam luxury outfit Imex Pan Pacific Group was on the verge of starting a local cargo carrier with Boeing 737-800BCFs, but abruptly dropped these plans in October 2022.
At the time, VnExpress quoted IPP chairman Jonathan Hanh Nguyen as having the view that current "global turmoil" would hurt demand for air cargo.
In addition, Bamboo has appointed Pham Dang Thanh as its deputy general director, as part of an effort to streamline senior management.