Embattled Vietnamese carrier Bamboo Airways says work to restructure its operations is ongoing, as it targets improvements in its financial performance.
In a statement released following a shareholders meeting on 15 September, the carrier says it is carrying out a review "with the goal of regenerating [the airline's] capital".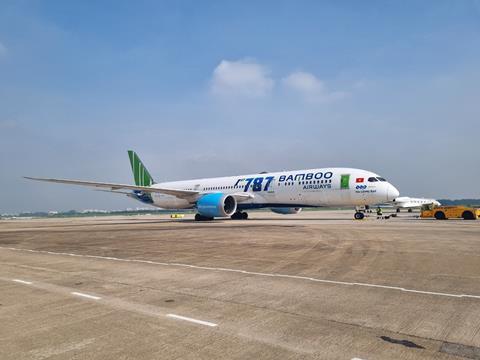 The review also aims to "strengthen the company's operations", as well as increase its working capital "to implement policies such as fleet…and network expansion", the company states.
The carrier's survivability has been the subject of rumours for several months, following a series of challenges.
In July, the carrier saw a raft of leadership changes, starting with the resignation of former chief executive Nguyen Minh Hai after less than two months in the top role. He was succeeded by acting chief executive Nguyen Ngoc Trung.
This was followed by the resignation of four directors less than a month after being appointed, including the airline's chairman Oshima Hideki who formerly was with Japan Airlines.
Local property group Him Lam took control of the airline as its strategic investor, moving the airline away from previous owner FLC Group, which itself faces legal and financial issues. FLC's then-chairman was arrested in 2022 on allegations of stock manipulation, and FLC was delisted from the Ho Chi Minh City Stock Exchange in early 2023.
In late July, Bamboo, which launched operations more than five years ago, fended off speculation it would be shut down, though it warned of significant schedule cuts in the near-term to "optimise resource allocation".