China's HNA Group wants strategic investors for its airline and airport units, days after receiving court approval to merge 321 related companies into a single entity for restructuring purposes.
The group, built on the foundations of flagship unit Hainan Airlines, disclosed on 19 March that it is searching for investors to "promote the reorganisation of HNA Group and related enterprises", as well as the "sustainable and healthy development of [the] main business".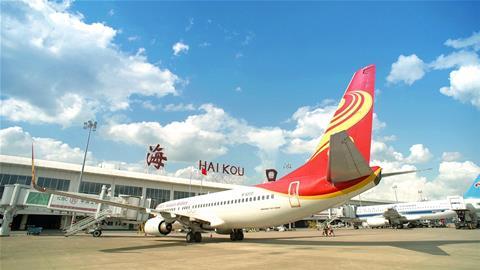 In the same disclosure, HNA Group laid out the conditions for investment, including qualifications for potential investors, as well as commitments that investors must adhere to.
For instance, interested investors must have "good financial health" and "excellent corporate governance", and can be either a single entity or a consortium comprising two or more investors.
"Strategic investors with foreign investment shall comply with relevant regulations on foreign investment access," HNA Group adds.
It notes that existing airline operations must remain unchanged and unaffected by the investment.
"[Investors must also] ensure that Hainan Airlines' main business is not divided…and operating under one network management and control operations," the group adds.
It warns that any investors found to have violated its conditions are liable for breach of contract.
HNA Group, a conglomerate that once held wide-ranging interests in areas such as aviation, technology, and property, received formal notice in late-January that creditors had filed for its bankruptcy, on grounds that it was unable to pay off its debts.
The group was already struggling as early as 2018, when it was reported that it was facing a liquidity crunch and mired in debt. The coronavirus outbreak dealt the HNA Group a further blow and by February 2020 it threw in the towel, seeking help from the Hainan provincial government.
On 15 March, the Hainan High People's Court ruled that the merger of 321 entities would also ensure "fair compensation" to all its creditors, and help speed up restructuring efforts.