Five weeks before Germany's new Berlin-Brandenburg International airport is due to open, its operator has decided to keep one terminal closed due to a dearth of passengers.
Construction of the airport's Terminal 2 was recently completed, but it will remain shut when the long-delayed airport, which will carry the ICAO designation BER, is inaugurated on 31 October, Flughafen Berlin-Brandenburg (FBB) chief executive Engelbert Lütke Daldrup says on 25 September.
The terminal is now scheduled to open in the middle of next year.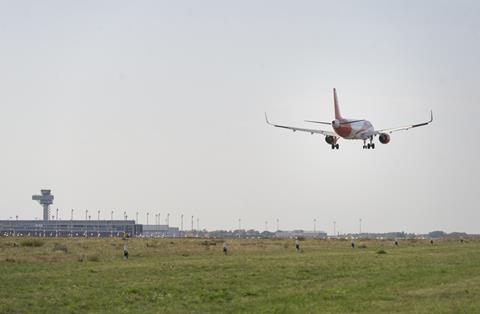 "Due to the collapse in passenger numbers, we will not need the terminal when BER opens," says Lütke Daldrup. "Therefore FBB will likely initiate operations in [Terminal 2] for the summer schedule 2021."
Between now and then, FBB says it can save a half million euro ($581,000) per month in operations costs.
Lütke Daldrup adds that should passenger numbers rebound faster than expected, the terminal could be opened without delay.
Terminal 2, which carried a price tag of €200 million, has a capacity of 6 million passengers per year. Altogether, the new airport, made up of three terminals named Terminal 1, 2 and 5, will have a total capacity of 40 million passengers annually.
Berlin-Brandenburg, located southeast of the German capital, has a long and troubled history. The project was launched in 1996 but years of financial issues hampered its construction, and the costs skyrocketed to more than €7 billion.
Design and building flaws as well as numerous management changes slowed completion, and just a few weeks before its planned commissioning in June 2012, a series of safety inspection failures prompted authorities to abruptly halt the airport's opening.
In early 2020, eight years after its proposed completion, the coronavirus pandemic threatened to derail the opening yet again. However FBB says that the new facility remains on track to launch commercial passenger operations at the end of October. For several months now, volunteers have been playing the role of passengers in testing the new airfield's processes.
The first aircraft due to land at BER will be simultaneous arrivals of an EasyJet and a Lufthansa aircraft on parallel runways. A week after Berlin-Brandenburg International airport is opened, Tegel International airport, the German capital city's primary airport since 1948, will close down for good.