The operator of Berlin's Tegel International airport, the primary airfield for commercial passenger service to the German capital, has decided to keep the Cold War-era facility open until November as travel restrictions ease following the global coronavirus pandemic.
Flughafen Berlin-Brandenburg (FBB) now says that the airport, where it had previously decided to suspend operations in June, will remain in use past the opening of the newly erected Berlin-Brandenburg International airport (BER). Berlin-Brandenburg was built to replace Tegel.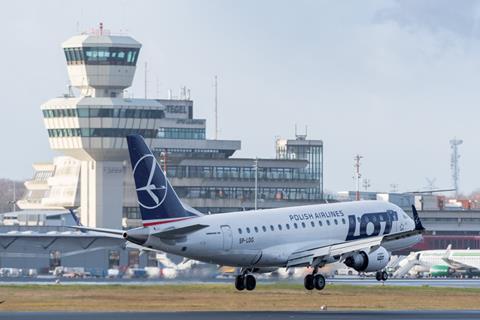 Last month, FBB's shareholders had unanimously agreed to a temporary exemption from obligations to operate the old airport in the northwest of the city, allowing it to effectively shutter on 15 June.
That would have left the German capital without a major airfield for almost four months. Flights would have been operated in and out of Berlin-Schoenefeld, in the southeast, a much smaller facility than Tegel. Schoenefeld is also the site of BER, which is yet to open.
But on 3 June, FBB backtracked on its plan to close Tegel earlier, as demand for flights to Berlin begins to rise following the easing of lockdowns imposed by many European countries to stop the spread of the coronavirus. FBB has now decided Tegel will keep operating until 8 November, just over a week after BER is due to open.
The German government has said it will lift travel warnings for 29 European countries on 15 June, driving demand for the flights during the summer holiday travel season.
"In the last few days there has been more information about the recovery of aviation," FBB chief executive Engelbert Luetke Daldrup said on 3 June. "Air traffic will continuously rise over the summer. At the end of July we will probably have so many regular flights that we will need both airports to process them under current [coronavirus] conditions."
Daldrup says the two Berlin airports could see as many as 100 flights per day by July, and process about 20,000 passengers. That is up from the current 3,000 passengers per day but far lower than the 100,000 passengers prior to the pandemic.
The new Berlin-Brandenburg airport has had a troubled history, with its official opening delayed for eight years. Construction and design problems as well as numerous management changes slowed completion. It is now scheduled to open on 31 October.