US lawmakers have proposed a union-backed bill that seeks to prevent the spread of disease within the commercial aviation sector, including by changing aircraft certification requirements.
Released 22 April into the House, the bill would require commercial aircraft designs include features intended to reduce disease transmission.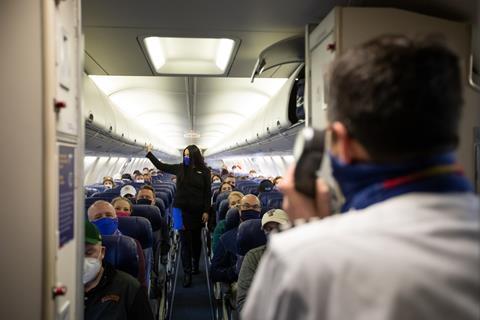 It also would require airlines take steps to keep diseases and viruses from spreading, mandate that passengers wear masks during disease outbreaks and force airlines to report passengers who do not.
Seventeen lawmakers, all Democrats, back the measure.
"The Covid-19 pandemic exposed serious flaws in the federal government's preparedness to keep airline and airport workers and travellers safe," says House transportation committee chair Peter DeFazio.
The bill "provides clear, consistent rules and guidelines" intended to mitigate the spread of disease and to keep passengers and aircraft crew safe, he adds.
The proposal would require the Federal Aviation Administration study disease spread aboard commercial jets, including how airflow, humidity and cabin filtration systems affect transmission.
It would order the FAA to require new commercial aircraft types include "features in the design or configuration of cabin surfaces and air conditioning and pressurisation systems" that limit disease or viral spread, the bill says.
Such requirements would come via amendments to Part 25 rules, which apply to aircraft airworthiness.
The bill would also more-closely regulate airlines, requiring they take "appropriate measures" to mitigate disease spread. It would force airlines during pandemics to disinfect cabins, provide employees with face masks and require staff wear the masks.
Neither Boeing nor airline trade group Airlines for America immediately responded to a request for comment.
The bill would require other aviation workers, like air traffic controllers, be given masks.
Additionally, it would order the government to create a "national aviation preparedness plan" for the purpose of aligning airlines', airports' and governments' disease-related responses.
Groups supporting the bill include US unions representing pilots, flight attendants and mechanics. The American Association of Airport Executives and Airports Council International also support the proposal.