Iraqi Airways has issued a request for proposals for wet-leased or ACMI aircraft for operations to Europe amid a continued blacklisting of the carrier by the European Commission.
Hoping to take advantage of a provision in the blacklisting that allows banned carriers to undertake operations via wet-lease agreements with other airlines, Iraqi Airways issued an RFP on 13 August seeking applicants with rights to fly in European airspace and land at airports in the region.
Applicants "must own several airplanes", the document says, of no more than 15 years old.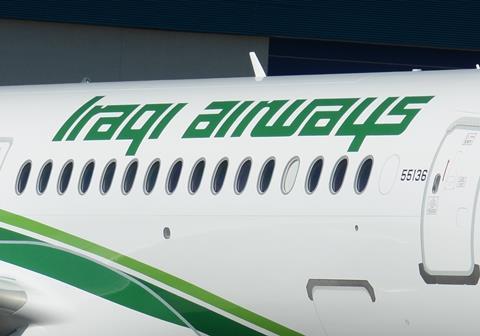 The Baghdad-based operator suggests European and non-European airlines would be considered for the flights, which would be operated to and from Iraq.
Initially based on a one-year contract, Iraqi Airways forecasts an average of 150 flying hours per month.
When Iraqi Airways received its second Airbus A220-300 earlier this year, the country's transport ministry said it had been holding discussions with EU representatives on resolving the safety concerns that have kept the airline on the Commission blacklist since December 2015, but it remains on the roll call of banned operators.