Atlas Air Worldwide Holdings, the buyer of Boeing's final four 747s, expects the jumbo jets will maintain their value over time – and plans to operate them for up to half a century.
Purchase, New York-headquartered Atlas earlier this week took delivery of the final-built 747-8 – the airline's fourth new 747 jumbo since the start of 2022.
"There's no specific replacement to the 747-8, and that's why we are so excited to take the last four," John Dietrich, Atlas' chief executive, told journalists on 31 January at a Boeing-hosted event in Everett marking the final delivery.
"We obviously feel very strongly about its capabilities. We think over time its capabilities will continue to have demand, and down the road even scarcity value, because there's no other aircraft out there that has that nose-loading capability," he says.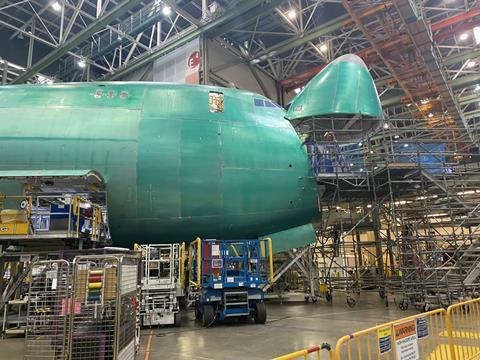 "There are other great airplanes – the 777 is a great airplane, we have a bunch of them that we operate ourselves – but nothing that will replace the 747, and that's why we like it so much," he adds.
Boeing said in 2020 that it would sunset the 747 programme after almost 55 years, now that most airlines had moved on to more-efficient twin-jets, which cost less to operate than four-engined aircraft.
There are about 350 of the jumbos still in operation, most of which are used for cargo transportation. Atlas Air alone operates 56 of the type, Dietrich says. In addition to the four new 747s acquired since the start of last year, Atlas received one new 777-200F last November and expects three more to be delivered in the course of 2023.
"There was tremendous demand during Covid for cargo, particularly with a lot of the belly capacity out of the market, and that created a great opportunity for us," Dietrich says. "We always expected that would moderate a little and we're experiencing some of that now."
"But we're very optimistic on the future, particularly now with China opening up and [the] Lunar New Year behind us," he adds. "We're expecting things to rebound."
Atlas will operate its newest 747 for Apex Logistics, a subsidiary of Swiss freight company Kuehne + Nagel.
The 777s have also already been placed with a customer, Geneva-based MSC Mediterranean Shipping, the world's largest shipping company, under a long-term "aircraft, crew, maintenance and insurance" agreement.
"Ocean carriers [are] now using air as part of their vertical integration supply chain," Dietrich says. "When I started with the company back in 1999… our customer list was predominantly airline customers looking for supplemental capacity. Today we have airline customers, we have express operators, we have shippers, we have freight forwarders, and now we have ocean carriers."
"We are excited about that new customer base. I think that bodes very well for us, and air freight as a component of the supply chain," he adds.
While Boeing has delivered the final 747, Dietrich says the manufacturer has committed to support the 747 fleet as long as the type remains in service, which could be another 40 or 50 years.
"We're dependent on Boeing to continue to support the airplane, whether it's spare parts, engineering… If things go wrong, they're always there to help us fix it," he says.
Atlas is not now seeking more aircraft beyond its 747s and 777s, but the company may one day look to another major manufacturer for future aircraft, should new designs emerge.
"We look at all aircraft types that are out there and will continue to monitor the market," Dietrich says. "While we are currently an all-Boeing airline, Airbus is putting out some great products, too. [There's] nothing to report by way of commitment, but we look at the entire market when we make our financial investment decisions," he says.
Atlas' newest 747 airframe left Everett on 1 February, pushing back from the gate at 07:47 local time. It is currently flying to Cincinnati, where it will also be feted before being handed over to Apex in about 10 days.
Dietrich wants to give his newest aircraft a fitting welcome but does not plan to christen it by slamming a champagne bottle against its hull.
"I don't intend to do that, it's too expensive an airplane. But we'll pop a champagne bottle, maybe spray it. We teach our people to treat those airplanes as gently as possible because they are awesome machines."

Pilar Wolfsteller, Americas Air Transport Editor, is an FAA-certified flight instructor (CFI), and holds a commercial pilot certificate with instrument rating. She joined FlightGlobal in 2019, and is based in Las Vegas. She covers airlines across the hemisphere and her interests also include future-oriented sustainable aviation technology, advanced air mobility projects and pilot training topics. Pilar began her journalism career at the global news agencies Bloomberg and Reuters, and has reported from more than 50 countries.
View full Profile