Boeing has suspended all support for Russian airline customers amid Russia's continuing invasion of Ukraine, while Kyiv claims that its air force is still in action.
"We have suspended major operations in Moscow and temporarily closed our office in Kyiv," says Boeing.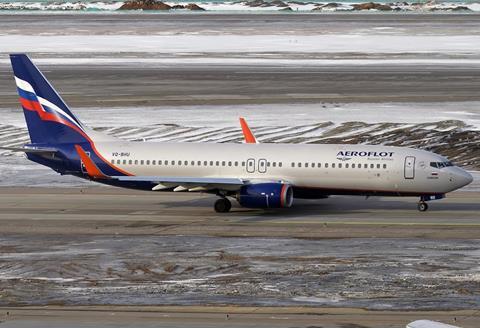 "We are also suspending parts, maintenance and technical support services for Russian airlines. As the conflict continues, our teams are focused on ensuring the safety of our teammates in the region."
The statement comes one day after Boeing said it had temporarily closed its Kyiv office and Moscow training campus.
Cirium fleets data suggest there are 293 Boeing aircraft in service in Russia. On 25 February, the European Commission said it would "ban the sale of all aircraft" and related equipment to Russian carriers, although the US government has yet to announce a similar measure.
Separately, Russia's invasion of its southern neighbour continues. Western defence analysts speculate that Moscow may have exhausted a large portion of its precision-guided munitions, and will now resort to indiscriminate bombardment of civilian areas in order to cow Ukrainian opposition.
Ukraine, for its part, continues to mount a tough defence accompanied by a robust social media campaign.
On its Facebook page, the Ukrainian Air Force Command said that on 1 March air defence units shot down one Russian helicopter and one Russian fixed-wing aircraft.
Moreover, it indicates that Russia has failed to gain aerial supremacy. It says that Ukrainian Sukhoi Su-24 and Su-25 bombers "launched four air strikes" against enemy columns and other targets.
Its page also shows footage allegedly shot from a Turkish Aerospace TB2 Bayraktar unmanned air vehicle, in which a Russian 'Buk' surface-to-air missile system is destroyed by a missile.