Boeing and Malaysia's civil aviation authority have signed an agreement aimed at bringing greater efficiency to the country's air traffic system.
The Letter of Intent signed between the two parties will see Boeing and the Civil Aviation Authority of Malaysia (CAAM) look at ways to improve operations, safety, and sustainability, says the airframer.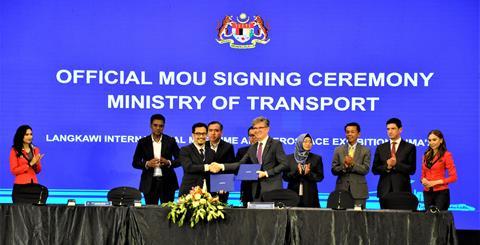 The pact was signed at Malaysia's Langkawi International Maritime and Aerospace Exhibition (LIMA) event. Representing Boeing was John Bruns from Boeing Commercial Sales & Marketing, and Norazman Mahmud, chief executive of CAAM.
"As the sole technical aviation safety regulator and air navigation service provider, [the Civil Aviation Authority of Malaysia] believes through this collaboration it will significantly benefit stakeholders through the increase of capacity that will accommodate more flights and attract more airlines and in return, support the growth of the aviation industry in Malaysia," says Boeing.
Boeing has a substantial presence in Malaysia. Cirium fleets data lists 95 Boeing aircraft as being in service in the Southeast Asian country, the vast majority of which are 737-800s and 737 Max 8s. Malaysian industry is also part of Boeing's global supply chain.