The commercial chief of Australia's Bonza will leave the carrier at the end of the year, marking the start-up's first high-profile departure since it began operations in January.
Carly Povey, an industry veteran who was part of Bonza's founding team, steps down on 7 December, says the airline, which has begun a search for her successor.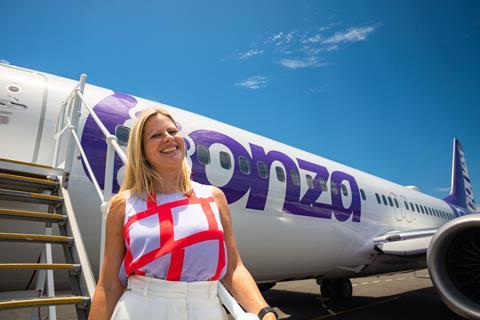 Povey says she is leaving "to my next challenge… which will see me move outside of my comfort zone and pursue new learning and development opportunities". The airline adds that her new role will be "outside of the aviation industry".
Bonza chief Tim Jordan paid tribute to Povey's "strategic vision", adding: "Carly has played a fundamental role in setting Bonza up for long-term success.
"Through Carly's leadership, we have defied the odds to make aviation history on many levels."
Povey joined Bonza's founding team in late-2021, moving from mail company Australia Post where she held leadership roles in customer-focused operations. Between 2014 and 2019, Povey worked at rival low-cost operator Jetstar, first as head of product and ancillary revenue, then as the head of commercial and operations improvement.
Povey was also part of the start-up team for UK-based Jet2 in 2003, overseeing the sales and marketing portfolios.
"I joined the start-up crew at Bonza to play a key role in creating the best experience in the skies, to connect communities and deliver much needed positive change to the industry including an offshoot holidays business," she says.
"Whilst this was not an easy decision [to leave the airline], I leave behind a very capable team and an airline that has firmly solidified its place in the market and can now focus on continuing to learn and deliver the basics very well, earning the right to grow," she adds.
Bonza is Australia's first independent low-cost carrier in nearly a decade and is backed by Miami private equity firm 777 Partners. The airline began commercial flights in January, operating a fleet of Boeing 737 Max 8s from its bases in Sunshine Coast, Melbourne and Gold Coast.
The airline says it has a different operating model compared with its compatriots: point-to-point services between secondary cities in Australia, eschewing operations within the 'Golden Triangle' of Brisbane, Sydney and Melbourne.
Povey is the first senior management executive to leave the airline since its founding. The announcement comes months after Bonza was forced to cut its network, citing the lack of "sustainable demand" on several routes.