American Airlines will purchase as many as 20 examples of Boom Supersonic's developmental Overture passenger jet, becoming the second major US carrier to commit to the programme.
Disclosing the agreement on 16 August, American said it had "paid a non-refundable deposit on the initial 20 aircraft", part of a deal that also includes 40 options.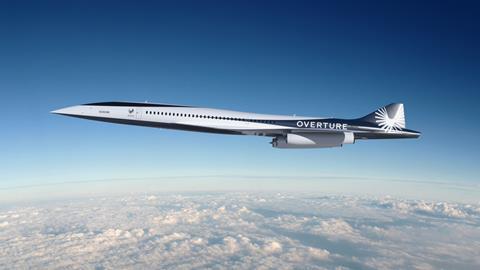 "Boom Supersonic's Overture would introduce an important new speed advantage to American's fleet," the Forth Worth-based carrier says.
"Under the terms of the agreement, Boom must meet industry-standard operating, performance and safety requirements as well as American's other customary conditions before delivery of any Overtures."
However, American does not disclose the dollar value of its deposit, nor say when it expects to receive the first aircraft. The airline did not immediately respond to a request for more information.
American's agreement for the supersonic jet follows United Airlines, which in 2021 said it had agreed to purchase 15 Overtures. Virgin Group and Japan Airlines have also placed what Boom calls "pre-orders".
New supersonic passenger jets such the Overture face a long road to service entry. Bringing such programmes through design and certification and into production requires billions of dollars, and the economics of supersonic passenger aircraft remain uncertain decades after airlines pulled the notoriously costly BAC Aerospatiale Concorde from service.
Additionally, airlines face immense social and government pressure to limit carbon emissions – a particularly difficult challenge for fuel-hungry supersonic types. Boom insists Overture will burn "100% sustainable aviation fuel", though such fuel remains in incredibly short supply and are more expensive than conventional jet fuel. They also have debatable environmental benefits.
Overture will carry 65-80 passengers, have range of 4,250nm (7,871km) and fly up to Mach 1.7 over water – about twice as fast as current jetliners. Supersonic civil air travel remains banned in the USA due to the disturbance caused by sonic booms.
American says Boom will be capable of flying from Miami to London in less than 5h, and from Los Angeles to Honolulu in 3h.
Denver-based Boom aims for Overture to make its maiden flight in early 2026, leading to first deliveries in 2029, the company said in July.
At last month's Farnborough air show, Boom revealed design changes to the aircraft. Overture will now have four engines instead of two, a contoured fuselage that is wider in front and slimmer at the back, and a higher-aspect-ratio wing with a longer wingspan.
Ahead of the Overture, Boom is developing a supersonic demonstrator called XB-1, which it rolled out in 2020. Boom had said XB-1 would make first flight in 2021, though that milestone remains unfulfilled.
Boom is partnered with Rolls-Royce to study the Overture's propulsion system. Other suppliers include Collins Aerospace, which will provide major aircraft systems and components, Eaton, which will develop fuel distribution, measurement and inerting systems, and Safran, which will build the landing gear.
Manufacturing of the Overture will take place at a facility in Greensboro, North Carolina.

Jonathan Hemmerdinger is Americas managing editor for FlightGlobal, covering all aspects of aviation, with a particular focus on the companies that make commercial aircraft and their suppliers. He formerly covered business for Maine's largest newspaper. Before that, he worked at Independence Air
View full Profile