Operating supersonic aircraft can be compatible with United Airlines' efforts to reduce its environmental footprint and reach net-zero CO2 emissions, according to the carrier's chief sustainability officer Lauren Riley.
United last year agreed to purchase 15 of Boom's supersonic Overture jets, drawing some criticism to an airline that is often seen as a regional leader when it comes to sustainability policies.
But speaking to FlightGlobal in mid-July on the sidelines of this year's Airline Strategy Awards – where United was recognised in the Environment, Social and Governance category – Riley insists that handled correctly, supersonic travel fits into United's sustainability agenda.
"Our commitment is to make sure we do it with sustainability at the core," Riley says. "So Boom Supersonic is designed to fly with 100% sustainable aviation fuel."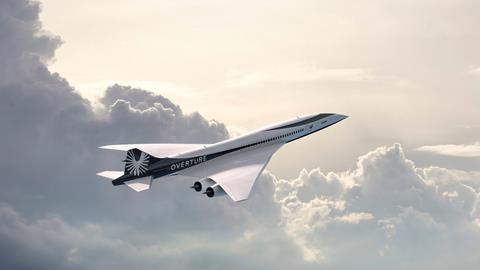 Her comments come after United chief executive Scott Kirby claimed last year that improved propulsion technology and a lower cruising speed will ensure Overture has a "fraction" of Concorde's fuel burn.
And United's wider strategy, Riley points out, is growing and innovating in a sustainable manner – an approach that should not preclude technologies such those proposed by Boom.
"We have to find a balance," she says. "We need innovation to be able to increase the customer service, the product, the experience that we are providing our travellers.
"So our commitment is to drive some of this innovation forward but to do it hand-in-hand with a responsible approach through sustainability."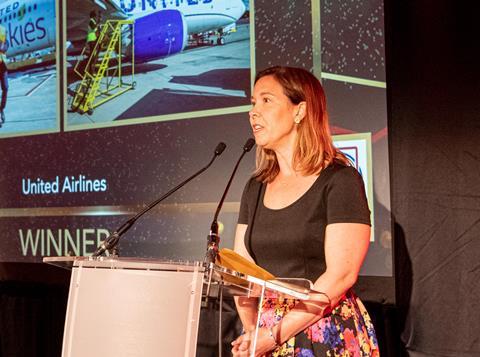 Today, Riley says, the key focus for United is accelerating sustainable aviation fuel (SAF) production, alongside other efforts to address the airline industry's emissions.
"Every conversation I have is either about the possibilities of technology and emerging solutions like SAF or, frankly, the policies and the frameworks that we need to enable a speed change, an acceleration," she states.
Boom introduced a new design for Overture, which it hopes to fly for the first time in early 2026, at Farnborough air show in July,