Swedish carrier Braathens Regional Airlines has this morning completed the first flight of a commercial aircraft powered entirely by sustainable aviation fuel (SAF).
The 1h 20min sortie from Malmo in the south of the country to Stockholm Bromma was performed using an ATR 72-600 and is part of a collaboration between Braathens, the Franco-Italian turboprop manufacturer, and fuel supplier Neste.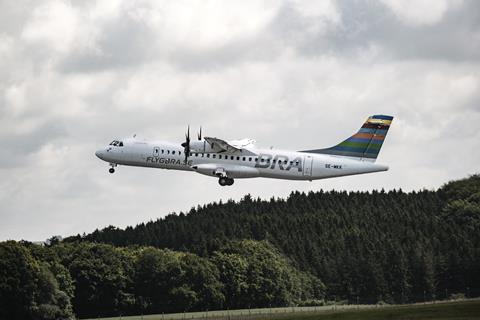 The trio launched their partnership last September with the aim of having an ATR aircraft certificated to operate on 100% SAF by 2025. A trial this February involved flying an ATR with 100% SAF in one of its two Pratt & Whitney PW127 engines.
The companies claim that using Neste SAF in its neat form would reduce an aircraft's greenhouse gas emissions by up to 80% over its lifecycle, compared with conventional fuel.
The flight, which was not carrying passengers, was granted an exception by the European Union Aviation Safety Agency, which, in common with most regulators, normally permits aircraft to fly with a maximum 50% SAF blend.
ATR chief executive Stefano Bortoli describes the flight as "historic" and "a true milestone for the entire aviation industry as it shows that this technology works and can be promptly adopted to speed up the transition to low-emission aviation".
He says that, while other technologies such as hybrid electric and hydrogen power are possible future solutions to cutting aviation's carbon footprint, SAF is "within reach and the quickest solution" because aircraft can "immediately be adapted".
Per Braathen, chairman of the family-owned carrier, says it has been a pioneer in green aviation. "Our sustainability focus started long before any other airline," he says. "The aviation sector needs a front runner, and we are happy to be the one."
The airline's aim is to be operating all its flights within Sweden on 100% SAF by 2030.
However, he urges governments and industry to speed up the availability and adoption of SAF by taking actions such as mandating its use on domestic routes. "SAF needs to be in the same competitive environment as conventional fuel," he says.
Bortoli says there are still "high entry barriers" for fuel companies wanting to increase production of SAF. However, he believes that increasing demand would generate investment by the private sector in refining capacity. "If we can generate that advantageous circle, that will be the answer," he says.
The travelling public can also play a role by opting to pay a premium to fly on aircraft powered by SAF, he says, suggesting that the fare increase might be equivalent to "a cup of coffee more".
Engine manufacturer Pratt & Whitney Canada was also involved in the project. President Maria Della Posta says the achievement is "indicative of the strong commitment Pratt & Whitney has made to powering more sustainable aviation".
ATR chief pilot Cyril Cizabuiroz commanded the flight, and was joined by co-pilot Jean-Pierre Marre and Pascal Daussin, flight-test mechanic.