China-backed Bruneian start-up Gallop Air could be the first foreign customer of Comac's C919 narrowbody, following its announcment that it intends to purchase 30 Chinese aircraft.
According to Shaanxi Tianju Investment Group, which is a key investor in the airline, the prospective order – signed on 15 September on the sidelines of the China-ASEAN Expo – is worth $2 billion.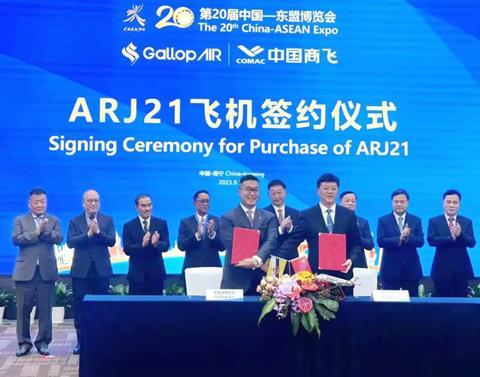 While official photos from the signing ceremony show that it was for the purchase of ARJ21 regional jets, the accompanying Tianju statement indicates that it could also include the C919, as well as the freighter and business jet variants of the ARJ21.
The C919 is currently operating only with launch customer China Eastern Airlines, having entered commercial service in May. The Shanghai-based carrier has five examples on order, of which two have been delivered and put into service.
Gallop was incorporated in Singapore in 2021, but has been largely dormant. Little information is available about its business model, though a LinkedIn page under its name says it will provide "hybrid flight services" targeting the Southeast Asia market.
However, Tianju says the airline is likely to "strengthen aviation connections" with China under the auspices of Beijing's 'One Belt, One Road' initiative, with the cities of Nanning and Guilin likely to be the initial launch destinations in 2024.
Tianju also envisages the airline operating a "complementary business model" with compatriot and flag carrier Royal Brunei Airlines.
Gallop will become the second known international operator of Chinese aircraft. Indonesian low-cost carrier TransNusa, which is linked to Chinese lessor CALC, operates a small fleet of ARJ21 regional jets, and recently deployed the type on international operations.