IndiGo recorded its highest-ever quarterly revenue of Rs172 billion ($2.1 billion) during the April-June period, powering it to a record net profit of Rs31 billion.
The result means the Indian low-cost carrier has been profitable for three consecutive quarters, it said on 2 August. The airline had reported a net loss of Rs10.6 billion the year-ago period, on revenue of Rs129 billion.
"I am pleased to report a solid start to the year, building on the positive momentum from the last two quarters," says IndiGo chief executive Pieter Elbers, who reiterates the airline's ambition to double in size by the end of the decade with an orderbook containing more than 1,000 aircraft.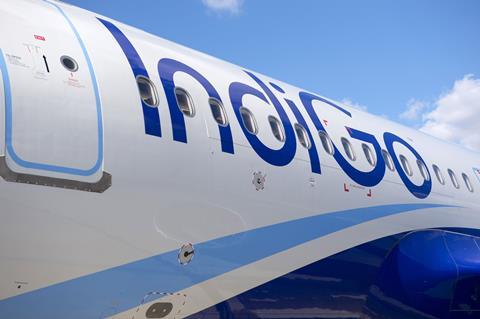 Citing a "strong operational performance, execution of our strategy and favourable market conditions", the carrier reported EBITDAR of Rs52 billion during its fiscal first quarter, up from Rs7.2 billion a year earlier. That represents an EBITDAR margin of 31% in the most recent period.
Its stronger performance came despite at 1.2% fall in yields year on year, as its load factor improved by 9 percentage points to 88.6%.
Revenue of Rs172 billion during the quarter was up 30% year on year and came as it welcomed 26.2 million passengers over the three months – another record high for the airline.
IndiGo's capacity was up 18% year on year.
The carrier's profitability was helped by a 23% drop in average fuel costs year on year, as its fuel cost per available seat kilometre fell by 27%. Costs excluding fuel were down by 11% year on year, helped by rising capacity as its fleet reached 316 aircraft at the end of the period – a net increase of 12 aircraft over the three months.
Its profitability was also helped by a much-less-severe impact from currency weakness in the most-recent three months.