Investment holding company Capital A has outlined plans to dispose its airline interests to AirAsia X after seeking an extension from the Malaysian stock market to submit "a holistic regularisation" plan.
The restructuring relates to the Malaysian stock exchange's move in January to label Capital A as a 'PN17' company – a categorisation for distressed entities.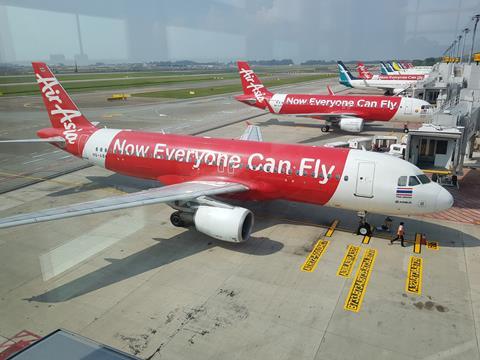 Under a plan outlined today by the two companies, Capital A will dispose AirAsia and AirAsia Aviation – which comprises AirAsia's Indonesian, Philippine and Thai units – to AirAsia X.
AirAsia X chief executive Benyamin Ismail says: "While all airlines under the consortium will remain separate with regard to the operations, the acquisition of the short-haul airlines under one consolidated group will create synergies with AirAsia X's mid-range operations. Leveraging the group's wide network of over 130 destinations will provide us the opportunities to expedite our recovery after the completion of the regularisation plan."
Shares received in exchange for the aviation businesses will be distributed to Capital A shareholders, which will retain direct interest in the aviation businesses via AirAsia X post-restructuring. Capital A chief executive Tony Fernandes says: "In essence, via this scheme, Capital A's shareholders' value will be preserved. Capital A will be rebranded as an aviation services and digital group, post the disposal and distribution exercises."
It expects to finalise its regularisation plan in January 2023 and aims for the deal to be approved in February
Fernandes adds: "We are coming out of it stronger than before – our airlines and network are fast returning to pre-pandemic levels, and our digital businesses are performing better than many had expected.
"While our PN17 status remains an accounting issue and does not accurately reflect the business viability and prospects of Capital A, we have nevertheless worked very hard to develop a plan to address the PN17 status as a key part of our post-pandemic recovery journey."
"In essence, the scheme will result in a clear separation between Capital A's three main portfolios of businesses, namely the aviation group, the digital businesses and the logistics-plus-aviation services."
He adds that Capital A envisions a separate spin-off listing in the future for the aviation services businesses of Capital A once its PN17 status is resolved. Capital A expects to complete the regularisation plan by July 2023.