Aviation's status as a 'hard to abate' sector when it comes to greenhouse gas (GHG) emissions was laid bare in the latest report from the Intergovernmental Panel on Climate Change, which suggests nascent carbon removal efforts will become crucial to the sector reaching net-zero emissions.
In its AR6 Synthesis Report, the UN body notes with medium confidence that "sustainable biofuels, low-emissions hydrogen, and derivatives (including ammonia and synthetic fuels) can support mitigation of CO2 emissions" in the transport sector – a view that chimes with the airline industry's focus on sustainable aviation fuels in its net-zero roadmaps.
Also echoing the airline industry's observations, the report says that "production process improvements and cost reductions" are important to encourage the wide adoption of sustainable fuels needed for aviation to help limit the projected rise in global temperatures.
Crucially, however, the report notes with high confidence that despite the adoption of sustainable fuels, "some hard-to-abate residual GHG emissions remain and would need to be counterbalanced by deployment of carbon dioxide removal methods to achieve net-zero CO2 or GHG".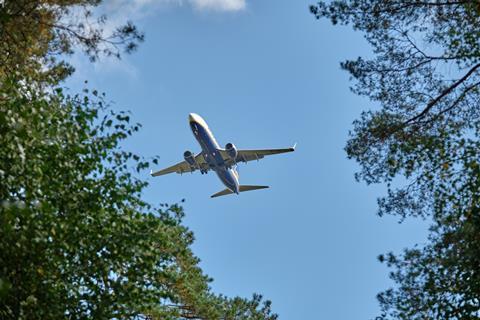 Responding to the report, Doctor Rob Bellamy, a lecturer in climate at the University of Manchester, says it is "crystal clear" that "leftover" aviation emissions are a factor making carbon removal from the air "not just an option – but a necessity".
Aside from aviation emissions, agricultural emissions are also cited as being hard to abate, Bellamy notes, while carbon removal could also help to "speed up mitigation" in general, "or to bring the temperature back down in the case of overshooting" targets.
But nascent carbon removal technologies and activities such as afforestation can bring "significant risks to people and the environment", Bellamy warns.
"We now need a wide-ranging societal conversation about which methods to take forward, how to incentivise them, and ultimately how to govern them," he suggests.
Professor David Lee, a lead author on the IPCC report and an expert on aviation at Manchester Metropolitan University, adds that while alternative fuels are aviation's "best hope", there will be a need to adopt "hard and demanding" carbon removal processes to reach net-zero.
"The Synthesis Report is a very clear signal that there are significant challenges ahead for aviation and no easy answers or quick fixes," he states.
Air Canada and United Airlines are among airlines to have made investments in carbon-capture technologies.
And when it released its net-zero roadmap in 2021, IATA said that emissions that cannot be eliminated "at source" will be taken out "through out-of-sector options such as carbon capture and storage and credible offsetting schemes".